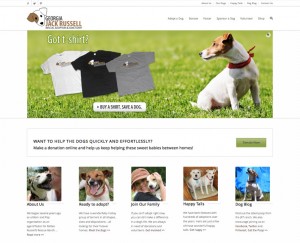 Welcome to our new website/domain! For years, we have been hosted at and promoted jackrusselladoptions.com. We inherited it from our original web designer, but the truth is: We are by no means a commercial or for-profit rescue. We are completely nonprofit, and it only seemed appropriate that we should have a .org domain instead.
In addition to that, we wanted to create a new but similar website that really showcased our dogs better. We wanted to make it easy for visitors to find our dogs and, if needed, to filter them by sex, age and/or special needs. We wanted to share more about who we are, how we take care of our dogs and what the processes are for adoption, foster, volunteering, sponsoring and donating.
We feel we've accomplished these goals and hope you agree.
With that said, please note that the site is currently in "soft launch" mode. We are sharing with our loyal following as we fine-tune things. We still have lots of photos on older blog posts to migrate, so you may see some missing galleries. Some links may be outdated as well. We are working to update all of those before broadcasting to all the search engines. Please, bear with us as we wrap up the fine details. For now, you should be able to get all of the information you need on our dogs and the adoption process.
The .com site will continue to exist for some time; it was just no longer be updated. Eventually, the domain will transfer directly here.
If you are a frequent website visitor, please update your bookmarks/favorites and begin to visit this site only. It will always have the latest news and our available dogs.
Thank you to everyone for your ongoing support. We couldn't do this without you. And, please note, all design services were donated by Soccer Dog Design. This redesign did not cost the rescue, the dogs or our supporters a dime.