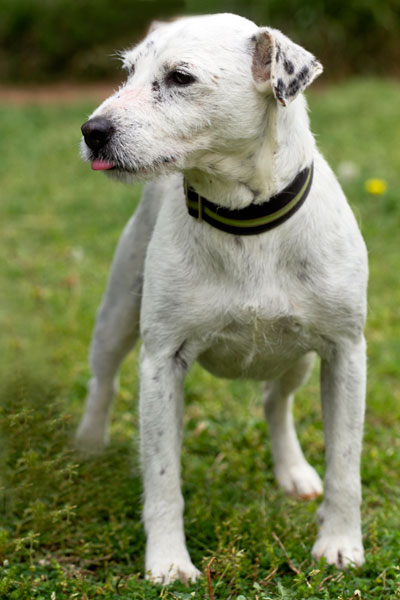 Not Just Another Rescue …
We are not just a rescue; we are a home before a forever home. Our video clearly conveys our mission: "To make this place (their) home" while they are here at JRT University. (We admit, there's more partying going on here than learning. Oops!)
Shelter
Each of our rescues has a 10×10 kennel  with a blanketed Dogloo, soft hay and toys to call his or her own. If the weather is too cold, hot or just plain scary, each has a soft crate or small run inside our climate-controlled building. Their kennels are scooped and their water bowls changed several times a day. (You know how messy these guys can be.)
Playtime
Whenever possible, each dog gets "field time." We are blessed to have a large, fenced acreage with plenty of trees to mark and butterflies to chase. Sometimes we are even lucky enough to get a visit from our volunteer/adopted mom-of-three Jennifer Roose, who works with the dogs on agility. It's a wonderful opportunity to burn off some of that energy and stay focused "job."
Daily Care
Daily care, of course, is just part of the operation. We are very focused on the health of our dogs. We are not the kind of rescue who can easily say "no," so a good percentage of our JRTs arrive with medical conditions that need immediate and sometimes extensive healthcare attention. In just the past year alone, we have been overwhelmed with a huge surge in vet bills due to (horrific) dental cleanings/extractions, ear canal reconstruction, infections, canine influenza,  and, unfortunately, a never-ending need for heartworm treatments.
Special Needs/Senior Dogs
Some of our guys and gals aren't just passing through. They will have to make their forever homes in our sanctuary due to advanced behavioral or health issues. Many of these sweethearts require monthly medications to help with their health issues. If you would like to help support them, learn more about sponsoring a special-needs dogs.
The Mighty Jack Russell
If you take a peek at our gallery of adoptable dogs, you will quickly realize that we have a motley group of terrier characters, from full-blooded Jack Russells, to mixed JRTs, to a few little ole mutts far removed from the Russell or Parsons breeds. That's because we simply love dogs and we have a hard time saying "no" to any dog who has fallen on desperate times.
So, why focus on Jack Russells? First, we simply love and respect the JRT. We have "been owned" by Jack Russells for years and love their intelligence, energy and loyalty. Most importantly, though, these little guys are often victims of uneducated circumstances. Television and movies have popularized the breed and led uninformed dog owners to believe some not-so-true things about them. As such, they are often snatched up by inexperienced pet parents who are not prepared for life with a demanding Jack and, as a result, they wind up in high-kill shelters. That's where we step in.
That sad disclaimer aside, if you are well-educated about and experienced with the breed and are ready for a rewarding challenge or an addition to your pack, please take a moment to get to know our rescues. They're each quite wonderful and unique in their own way, if we may say so … and we just did.