Recap of November
Challenges are a part of rescue and, like they say — "What doesn't kill you makes you stronger." November proved that we're pretty strong. 😉
It Rained, It Poured
When it rains, it pours at rescue … and we meant that both figuratively and literally as November kicked off! The kennels flooded after a torrential downpour on Nov. 2. And, wouldn't you know it, our Shop Vac died! Fortunately, two amazing sponsors came to our rescue and had two new machines expedited to the ranch to help us prevent permanent flood damage. Thank you, thank you, thank you … You saved us again at Christmas time!
As if that wasn't enough, Odie, John John and Treasure were all battling their storms as well.
Letting Go of a Little Treasure
We knew when Treasure arrived in October that her time with us was limited. She was 15 years old–which is still young in Jack years–but she had spent her entire life, making babies for a breeder. We had hoped, like so many other dogs, we could spay her and give her a few wonderful years in a home filled with love, living life as a puppy instead of a puppy producer. Unfortunately, that wasn't the plan. She decided to leave for the Rainbow Bridge on Nov. 9. We hope you are enjoying being a puppy there, sweetheart.
Fall Vol Day
Vol days at the ranch always entail a lot of work, but none more than the fall day. It's when we wrap and weatherproof the kennels … and it takes a small village to get it done in a day. Fortunately, we have a small village of volunteers now to get the job done and they certainly did … and we're always looking for more.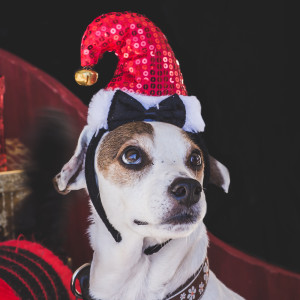 Santa Photos
As we've mentioned before, we love trying out all kinds of fundraisers to help the dogs. We have so much talent within our volunteer group, why not utilize it? So, when Dog City II in Sandy Springs asked us if we would like to do photos with Santa for the dogs, we had no problem "volunteering" our awesome photographer, Elisa Schwutke of Heavenly Dog Photography, for the task. It was a great morning with a very good turnout … and the photos weren't too shabby, either. 😉 A lot of folks had a lot of Christmas cards made this year for a donation to the dogs.