Recap of December
So we've reached the end of the rescue road recap … at least for this year. Overall, 2015 was a pretty fabulous year. As we mentioned in our introduction to the Year in Review roundup, we grew in numbers overall: Volunteers, adopters, fosters and sponsors. We definitely faced some challenges and some losses, but the accomplishments and celebrations far outweighed the negativity … and, in the rescue world, that's huge!
Thank you all for another wonderful year; another year we've managed to keep the doors open to rescue, rehabilitate and re-home so many beautiful dogs and to provide a sanctuary for seniors and special-needs. It may be a cliche', but we honestly could not do this without you.
We are looking forward to sharing 2016 with you and we can't wait to see what it brings.
Angel Tree Drive
In late November, we kicked off our 3rd Annual Angel Tree Drive for the rescues. Dog City II joined us for the second year, while Tucker Pet Supply participated for the first time. Both stores rocked the drive, bringing in tons of goodies for the dogs that we are still delivering!
Our Amazon Wish List also exploded with gifts arriving from all around the country.
As if that wasn't enough, City Dog Market also included us in their Toys for Spot toy drive this year, racking up the fun stuff for the pups!
Edgar Goes Home
As we've mentioned a few times, 2015 was definitely a difficult year in terms of losing special-needs and/or senior dogs. Although it's "the nature of the business," that certainly doesn't make it any easier, especially with some dogs who have become so much a part of our rescue family.  Such was the case when Edgar said goodbye to us on Dec. 12.
This character-of-a-guy arrived at rescue in 2012. He was 13, deaf, had terrible teeth and limited vision, so off he went to live at our satellite "senior center sanctuary." There, he found a wonderful home … and ended up running the place. We're pretty sure he's already welcoming and leading everyone around at the Bridge.
Urban Paws Gives Back
We love fundraising with partners, especially when our donors get great items at discounts for their dogs and our partner gives great donations to the rescues. Such was the case with Urban Paw and their Holiday Give Back Drive. It's not to late to save 10% and donate 40% to the rescues! The sale on their fabulous pet beds ends Thursday at midnight.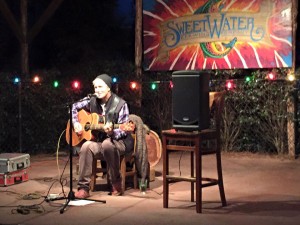 Brew Night
Team Russell decided to share our annual holiday celebration with everyone this year with a special brew night at SweetWater on Dec. 6. It was a bit chilly, but we still had a good turnout to sample beer and enjoy the tunes of Morgan Rowe (aka Oscar's mom) for the dogs. And guess what? We'll be back in the summer! Mark your calendars now for Aug. 3 … when we'll all want a cold one in Atlanta! 🙂
Hannah Goes Home
Talk about saving the best for last! After almost three years of watching, waiting and praying for the best, Hannah has gone home … and what a wonderful home it is!