Recap of February
February was relatively quiet across the board … which is always good during the cold. It's challenging enough to take the dogs in and out of the kennels everyday to enjoy the sunshine and to stay warm at night.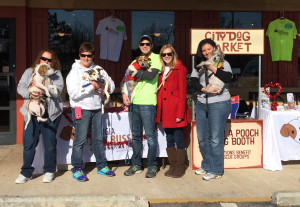 Smooch a Pooch
It's always fun to get out and about at special events and introduce our mission—and our dogs—to the public. It's even more fun when our pups pooches get to "smooches" on people. That's exactly what we did for the second year in a row at City Dog Market on Valentine's Day. Joey, Rocky, Diamond and Ricky all gave their best … and three of them are officially adopted now. Woohoo!
Fandango Family Fun
We not only enjoy parading our pups in public, we also enjoy educating the public about our very special breed. The Fandango Family allowed us to do that with a table at the Atlanta premier of "Russell Madness."
Daisy Mae Goes Home
At the end of 2014, Daisy Mae's little shelter photo won over the hearts of all of the volunteers and sponsors (thank you, Linda Jardine, for sponsoring her!). She arrived with rotting teeth and Pyometra, a disease typically caused from having too many puppies. She was so submissive and scared of everything. Even walking on a leash on grass was new to her. We knew it was going to take her awhile to adjust, but just days after posting her photos and story, Heidi Flowers saw her, fell in love with her and came to take her to an amazing home. No more tiny Terriers for her. She is now the spoiled little puppy she deserves to be.