Recap of August
It was literally the "dog days of summer" with several of our rescues finding new homes … and Pippa finding her truly-forever one at the Rainbow Bridge.
Dog Days of Summer
August was the "dog days of summer" with several of our dogs finding their forever homes. As mentioned in our June post, we had several babies (and their mom) in search of homes. That included Mama Penny and her three gorgeous babies. We knew it wouldn't take long for the babies to find homes, but we were elated when Penny (now Lilly) found a truly awesome one on Aug. 7 with the Smiths. She hikes, she kayaks, she rides on Waverunners – you name it, she's done it since leaving the ranch!
Two of her babies followed in her footsteps soon after with Daisy (now Lucy) going home with the Rosenbergs on Aug. 10 and Pearl (now Georgia) going home with Andrea and Jennifer on Aug. 16.
As adorable as she was/is, L'il Lily was not so lucky. She was a bit of a wild child (what Terrier puppy isn't?) with energy and training needs that were a little too much for some. The last thing we wanted was for her to spend her formative weeks/months at rescue, so we sent her to our friends at Jacks Galore in September. She was immediately snatched up and is living the good life as Peanut.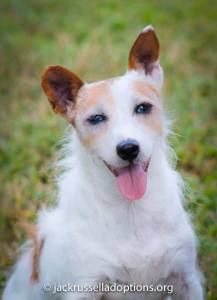 Farewell, Sweet Pippa
Even after some of our rescues are adopted and "move on," they never truly do. They come back to visit us at the ranch just to say "hi," and/or because their stories were so amazing, they are still very much a part of our family—both them and their parents. Pippa was definitely one of those dogs.
She arrived at rescue in 2012 in terrible shape with deformed feet from living on concrete all of her life and the worst case of heartworm our vet had ever seen in his career. She showed no signs of ever slowing down, though, so we took a chance and treated the heartworms. She went through the treatment like a champ, but would always have damage to her heart because of the impact.
That didn't stop Kasey and Kimberly from adopting her a few months later. Even though she had to spend some days in an oxygen tent, she lived almost two wonderful years with her pack and made every day count. It wasn't until Aug. 24 of this year that Pippa decided she was ready to give up the fight and move on to bigger and better things. She will always be a reminder to us – not just of the importance of monthly heartworm preventative, but of the incredible spirit of the mighty Jack Russell.