It was a year ago that we heard the news no one ever wants to hear: An out-of-state rescue was busted and more than 50 neglected dogs were seized. Many of them were Jack Russells, and the local shelter was desperately reaching out to all rescues across the country to save some of them.
A few weeks later, "Exodus Six" arrived at our rescue. (Later, it would become seven when Dixie left foster care.)
It was overwhelming from every aspect. We are a small rescue, logistically and financially, and our main concern is always quality of life over quantity intake. These dogs had all been through a harrowing experience and had a plethora of issues, from medical to dental to behavioral. There were days we didn't know how we were going to do it, but somehow, someway, someone always stepped up when we needed help to pay for medical bills, to help find forever homes and, in Hannah's circumstance, to change her life completely.
So, today we would just like to say thank you to everyone involved in turning this heartbreaking situation into a heavenly one for these dogs. Here's a quick update on how everyone is doing …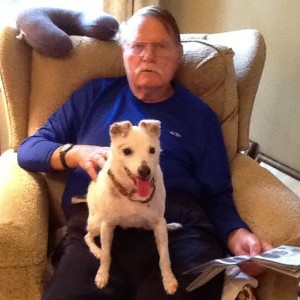 Bailey went home  to live with his forever dad, Billy Warren, in November, thanks to one our volunteers, Abby, for connecting the two. And what a forever life he is living! He has a huge yard, big house and plenty of parties to beg for treats at … and no one deserves it more.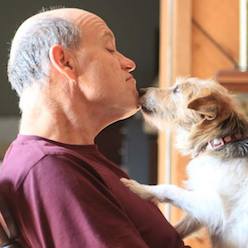 Sadie was scooped up by Tom and Kathy Bobbitt in September. They fell in love with her weeks before when they came to the ranch to help, but had to wait to get her until some summer travels had passed. These days, she is spoiled beyond words … and deserves every bit of it.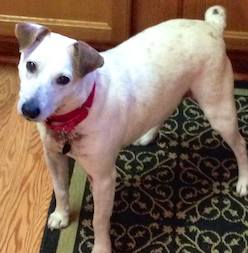 Sam completed his heartworm treatment and went to foster care with the Brewsters in November. He is headed to Florida tomorrow morning to live a wonderful forever life with two beautiful sisters, who promise to spend lots of time with him and spoil him.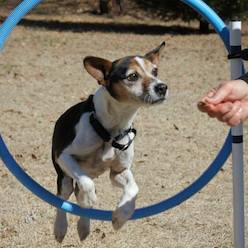 Dixie arrived months after the rest of the gang. She had been in foster care, but could no longer stay there. She was heartworm positive, which we are treating with slow kill now. She was also a little shy, but is starting to trust everyone and is even learning some agility. She is going to make a wonderful dog for someone special.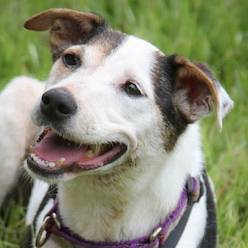 Rocky has struggled with some ongoing digestive/pancreas issues, but has finally gained weight and is doing well. He's a super-smart, athletic dog who would love an active family.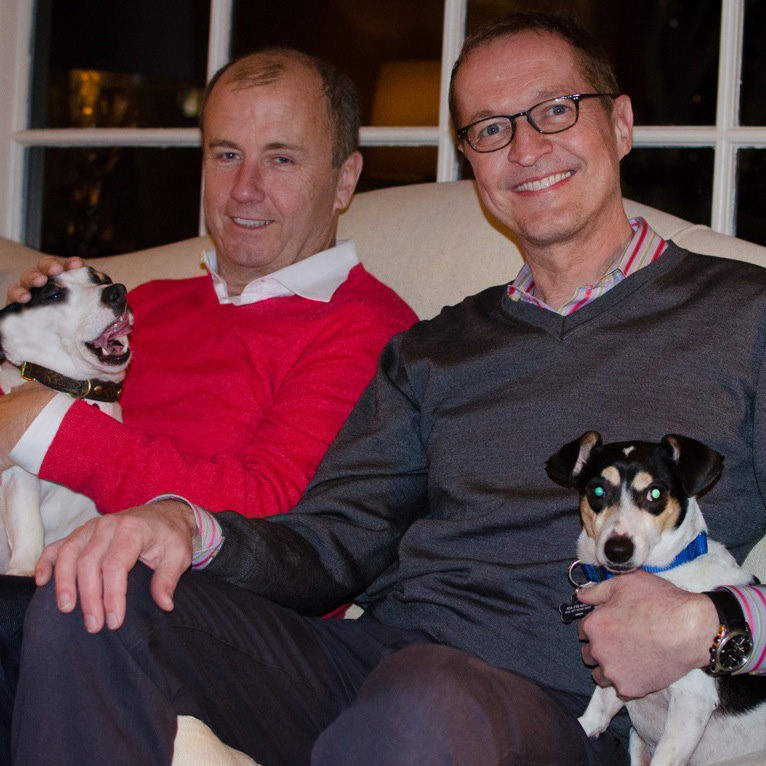 Pebbles went into foster care with Mr. Wiggles when the first cold spell hit Atlanta this winter. Her foster parents introduced her to her amazing dads,  Jeff and Bill, who had already given a forever home to Casper (one of our former rescues). The two hit it off and are living happily ever after together.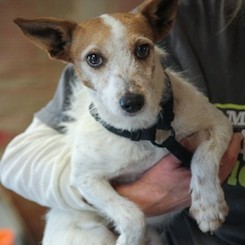 And Hannah? After months of running from Donna and the volunteers, we had a breakthrough with her in early November. She needed to leave rescue to learn trust and confidence; Pam and Bonnie came through with flying colors. Read her story.