The Wine Wall Returns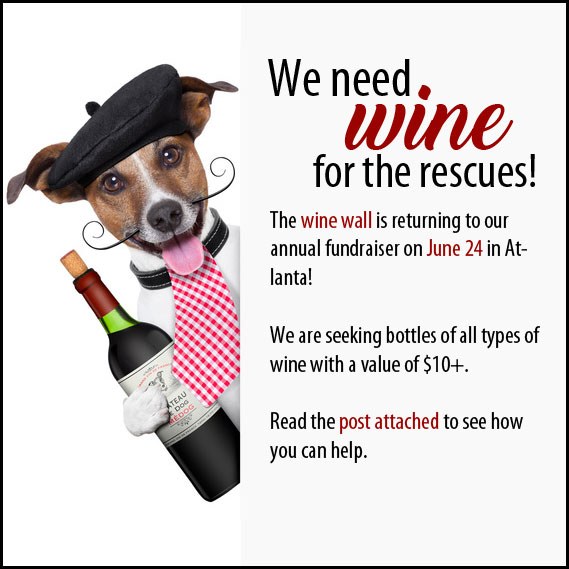 Our annual fundraiser with Chap's Chow Rescue will be here before you know it on Saturday, June 24 and we are happy to announce that the ever-fabulous wine wall be returning again this year! It's always a hit. Event-goers donate $10, draw a cork that corresponds with a bottle on the wall, and win a bottle of wine worth at least that donation amount — but, oftentimes, much more!
All bottles are donated, and all proceeds go to the rescues.
We are currently seeking donated bottles to add to the wall this year.
In Atlanta/Georgia?
If you visit rescue often, you can drop it off there. If you know Mama Donna or a Team Russell volunteer, you can bring it to him/her. If you live in Atlanta, we can arrange a pick-up/drop-off, if you don't want to ship.
Outside of Georgia?
If you're out of state and willing to ship, we would love you for it! See address below, but please, be sure to check the laws of shipping alcohol between your state and Georgia. It may be best to ship from a winery, including our own Tipsy Terrier wines. We can give you a drop-ship physical address, if needed.
Gifts Cards and Other Items Still Needed
We are also looking for gift cards — any kind, from local Atlanta businesses to nationwide chains — restaurants, pet stores, home improvement, Amazon, you name it. These make great raffle items and/or, when we have enough, a fabulous gift card tree that is always a hot item.
We are also still looking for any items on this list. What we can't use for the fundraiser, we will use for our online auctions or other special events.
The mailing address is:
GA JRT Rescue
Box 305
Avondale Estates, GA 30002
Want to know more about the fundraiser? Check it out!