Congratulations to the Lumber Jacks!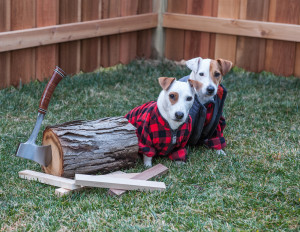 Another calendar contest has come to an end and what an end it was! The last few hours were pretty intense among our top three winners, going paw to paw and knocking it out of the park for the dogs, i.e. we ended up going above and beyond our $3,000 goal! Wow!
In the final moments, however, The Lumber Jacks, took the lead (again) before the clock stopped and won the cover spot by just seconds and 26 votes. Congratulations, Seamus and Riley! Thank you so much for working so hard — and entering such a fabulous photo! We will be in touch soon to discuss your photo book.
Second Prize Winners
We also want to give a huge shout out to Ludo King and Lucy Welch, who rallied in those final minutes, and gave it their all to take second and third. Along with The Lumber Jacks, they will have a monthly panel, as will our next nine winners: Pinky, Dot & Wilbur, Spike, Isis Maria S., Eli & Eleanor (that was ALL you as the rescue could not vote), Enzo, the Jack Pack, Stuart and Oscar. Congratulations, all! We will try to match up the theme/feel of your photos with the applicable months to complete the calendar.
Runners-Up
Additional congratulations to winners #13-20, including Stuart, Oscar, Brigit, JT, Emory, LittleBit, Bernie & Betsey, Hannah Banana, Sugar & Peewee, Penny, Mark, Tuna & RooRoo. They will all have a spot on the back cover of the calendar.
Special Thanks
As not to leave our final two competitors out for their fundraising efforts, Skooter and Eduardo will all be receiving special dates inside the calendar. We will be in touch via email to reserve those dates.
Also, thank you to those not entered into the contest who voted. This was our big fundraiser this year and you all—again—went above and beyond. We are blown away.
The Next Steps
Design on the calendar will begin this month. We hope to have them available by the reunion on Oct. 22, depending on our designer's and our printer's turnaround times. If not, they will definitely be available in November and shipped out to the winners. We will be in touch with everyone individually to see if you would like to order additional calendars for holiday gifts.