It's Never Easy …
We never like these updates, but, unfortunately, it is a part of rescue and, inevitably, the cycle of life as we know it.
We have confirmed what we knew to be a possibility when Roxy first arrived from the kill shelter in June: She may not have long with us.
We couldn't understand how anyone could give up this precious 9-year-old girl, who is just about as sweet as she can be. Her neverending cough and thorough vetting, of course, told us why.
An Ounce of Prevention …
It's apparent that this sweetheart once had a terrible case of heartworm and, much like Pippa, it took its toll on her poor heart. X-rays showed that her heart is positively huge and it doesn't help much that she also has a mouth full of nasty teeth. The latter, alone, can release toxins into the bloodstream and, quite frankly, just make a dog feel like poop. As you may recall, we've been down this road with several wonderful seniors in the past, including Skip, Chloe and Octavia, where, in some cases, their teeth all had to be pulled or were literally falling out in our hands.
And, given her heart condition, we couldn't put Roxy under anesthesia to clean or pull them until she stabilized. We have been trying to get control of her erratic breathing and blood pressure, which means keeping her on three different types of medications (Vetmedin, Accupril and Lasix).
The Latest News
She has spent most of her time on a big comfy bed in the indoor kennel and has had good days and bad days the past few weeks. She has been spending this week at our satellite "old folks' home" with Floyd and the gang. She has obviously been loving this (the photo above doesn't lie), but she grew very weak yesterday and was rushed to the vet late last night.
She has some lung congestion, and her kidney values are on the high side, most likely a direct result of her weakened heart. The vet also confirmed what we already knew: Her time with us is limited. There is so much damage that it can't be healed–only maintained–and it will progressively get worse.They are flushing her kidneys and working on her congestion. She will stay there until she stabilizes, then return to the senior center until we can figure out what to do next.
Moving Forward
It's heartbreaking for all of us, but we intend to do what we did for all of those beautiful seniors and/or neglected pups who came before her: To give her as much love and attention as possible for however long she is with us. Dog knows this girl has spent her life giving it to someone else, and she deserves every minute of joy that we can give to her.
Want to help? There are  plenty of ways to do so.
Sponsor Roxy
If you would like to help pay for Roxy's medications and care, we can use all of the help we can get. Please click the applicable PayPal button below.
Adopt Roxy
We know that adoption is probably a long shot, but we've seen miracles happen. If you're interested in taking on Roxy and all of her needs, please complete our adoption application.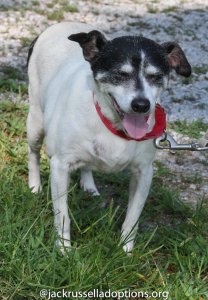 Foster Roxy
If you would like to forever foster her and work with us helping to cover for the vet bills while you give her the best home and love possible, we would love that. Please complete our foster application.