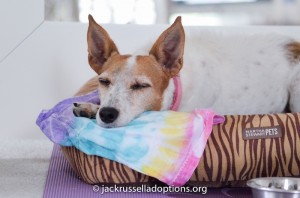 Have you been wondering about our little Hannah and how she's doing? Wonder no more! Here's a fabulous update.
As you may recall, Hannah came to us in 2013 following a horrible bust at an out-of-state rescue. It took us months to gain her trust and get her to stop running in nervous circles in her kennel. In early 2014, she went to foster care and thrived for months, gaining more confidence and getting used to living in a home with other dogs. She gained so much confidence that she and her foster sister had a couple of disagreements.
So, in September, she was looking for another foster home. None of us wanted to bring her back to rescue and un-do all of the great things her foster family had done for her. Belinda McDonald stepped up to take her home and she has been flourishing ever since. Check out the latest in "Hannah's" update below. We are still looking for a forever home for this special girl. If you are interested, please visit her profile page and download our adoption form.
Hannah Banana's Journey Continues
By Hannah … with help from her foster mom, Belinda McDonald
Hello, big world. Hannah here. My foster mom calls me Hannah Banana, Hannah Montana and sometimes she even calls me Banana Butt. She is very silly, isn't she! But I love having all my different nicknames.
My absolute favorite thing in life – besides treats, of course — is to go on a walk on the leash! My foster mom takes me on walkies around the neighborhood. The neighborhood has a little village area with lots of stores and restaurants, so I get lots of sniffs and can check out all the doggie news. I also like going on runs (I am learning to run with my foster mom on a leash).
My second love is toys. Squeaky toys and tennis balls! Or even a squeaky tennis ball! I love them so much. I am learning to "drop it," so you can throw it for me again – sometimes I forget and run into the crate with the ball or toy ("My precioussssss …")
Speaking of the crate, I really enjoy having my Woman Cave.  In fact, I need a crate to feel safe. I like to have a place of my own to go when I am feeling a little uncertain. I sleep in my crate and I am crate trained for during the day (although I do not need to stay in the crate during the day, I can if you want me to). This will be especially important in my first couple of weeks in my new home.
When someone new comes over to my foster mom's house, I will go out and greet them. I am shy about getting petted by new people. I will let new friends scratch under my chin, of course. But then I will probably go hang out in my crate for a while and build up my nerve to come out again. I do love my people – when I see my people, my little nub of a tail wags like crazy! I can't help it!
So, okay, about the treats. We really need to talk about the treats. I am very treat motivated! I especially love a Kong with peanut butter, a bully chew, or salmon sticks. But I have yet to find a treat I don't like. I am learning to sit for my treat – but I get pretty excited to be getting attention, and you know I really want that treat! So sometimes I have a little trouble focusing.
Do you like to go to the beach? I do! My foster mom took me there and I liked the waves! I ran in the water with her, and then we went back to the beach house so I could tire myself out hunting lizards!
I need a home that will help me to continue to build my confidence. I used to be a very scared little girl, but since I came to the nice people at Georgia Jack Russell Rescue, I have been learning to be braver and braver. My foster home has a doggie door, but I am scared of that, so I need someone who will take me outside to do my business. I am a really good girl about the housetraining thing, as long as you take me outside.
I would really like my new home to have another dog, someone who will show me the ropes and let me know that I don't need to be scared of things. I also need lots of exercise – twice a day walks or runs — as any Jack Russell or Terrier type of doggie does!"