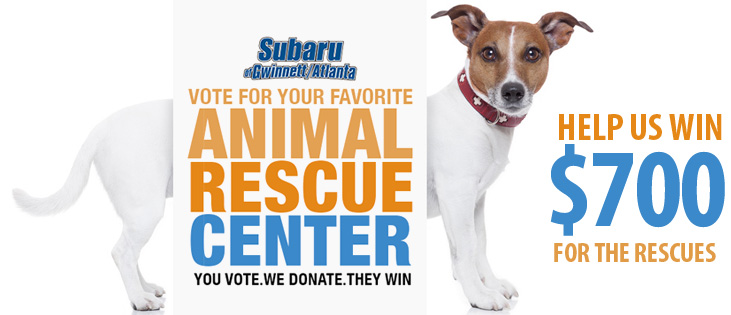 So, you say you want to help out the JRT rescues from the comfort of your home and computer? Here's a great opportunity …
Subaru of Gwinnett is sponsoring a Facebook contest for rescue organizations that offers us the opportunity to win a donation of either $700 for 1st place, $500 for 2nd place or $300 for 3rd place. We need your daily (free) votes to win it, though.
Here's how you can help:
Go to go to http://www.facebook.com/SubaruofGwinnett after the contest begins on Saturday, May 3.
Click the Like button at the top of the page (you only have to do this the first time you vote).
Click "Allow" to register; this is necessary to limit votes to one per day, keeping contest fair for all.
Click the radio button next to Georgia Jack Russell Adoptions.
Click the VOTE button that appears at the bottom of the list.
Come back everyday and vote through May 31.
*Due to the nature of this contest, mobile voting is not available. Sorry for the inconvenience.
Everyone is allowed to vote once per day, so we encourage everyone to come back and vote for our rescue every day! Each vote counts as one point, and the results are updated instantly. Winners will be announced on Monday, June 2 at 3 pm.
Subaru of Gwinnett is also encouraging all of our rescue supporters to post pictures and stories of your rescues (please tag us @Georgia Jack Russell Adoption) on their wall. This is a great way to share stories on how our little rescues have impacted everyone's lives and it encourages others to vote for us.
Thanks in advance for your help with this. Go, Team Russell, near and far