Spring has officially sprung … and brought its showers with it. But that's OK – soon the sun will be out, the weather will be warmer and you know what that means: Spring festivals! We now have big events scheduled for April, May and June. Woo-hoo! Here's a brief overview, so you can plug these dates into your calendars:
---
SweetWater 420 Fest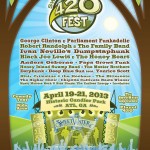 First on tap (pun intended) is the SweetWater 420 Fest at Candler Park April 19-21. We were the only rescue group there last year, and it was an absolute blast! We met so many great dog lovers (show us your smartphone pics!) and hope to do so again. We can't bring dogs to this event (no one can), but we will have all of our merchandise and information on the dogs with us.
---
WoofStock 2013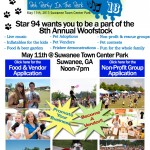 Second up is the annual WoofStock festival at Suwanee Town Center on May 11. This will be the fourth year we have participated. If the weather is nice (not too hot like last year), we will definitely bring some of our adoptable babies. Bring your own babies out for live music, food, pet contests and more. And, of course, don't forget to stop by our tent and say "hello!"
---
June Fun(d)raising Event
Last but not least is a very special fundraising event that we are working on for June. We can't release the details until they're ironed out, but mark you calendars now for the evening of Saturday, June 8. You're going to want to be there!
---