Another talk show today; more people complaining about how Facebook and other social media are ruining people's lives.
We're sure, like anything else, it has that potential to do that with some people, but true JRT lovers aren't some people. We are responsible, energetic go-getters who love to work as hard as we play. With that said, all we can attest is how much the website and social media has improved the lives of Donna, our volunteers and, most importantly of all, our rescue dogs the past couple of years.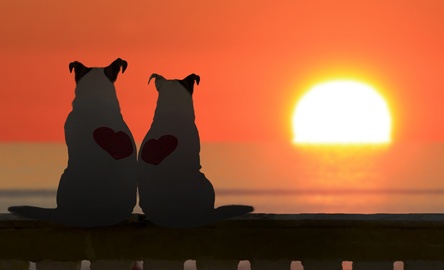 We are still growing our website, Pinterest and Twitter followings because we have mostly focused on our biggest family on Facebook. In just two years, we went from a handful of "fans" to more than 2,000. Most of this was word-of-mouth and sharing, not just in Georgia, the Southeast or the United States, but across the globe! That's not too shabby for a tiny little rescue in rural Georgia that relies solely on an owner/volunteers who all have day jobs/families and struggles to make ends meet week-to-week. We are not like most rescues; this is not what we do for a living and every penny donated goes to taking care of these dogs.
"Likes" are one thing, but interaction, involvement and participation are a whole different world – and wow, how you have come through for us lately! No matter what crazy curveball we throw to you for help, there's always someone who steps up – whether you are down the road or across the planet, you seem to have just what the dogs need at any given moment. You have helped us win a challenging photo contest; turned our first local fundraiser into a smashing success; donated your time, gifts and services; transported dogs across the country; helped us with food, toys and kennels(!); and, most importantly, given our babies forever homes and never stopped supporting us since … And that's just to name a few in the past few months!
This post is not so much to discount the claims of moral decline because of social media (quite the opposite for us), but really just to say thank you. It's so nice to see Mama Donna crying tears of joy instead of grief and upset lately. Sure, there are still tons of ongoing issues on any given day with sick/senior dogs, branches breaking, septic tanks backing up, insects and snakes attacking, and other goodness we all deal with as homeowners and dog parents. Multiply that by several acres and dozens of dogs and you can see how overwhelming it can get. Thanks to you, these challenges of life have become a little easier and helped us continue to help the senior and special-needs dogs we have, in addition to spreading the word about our younger and adoptable babies.
Most of all, though, it's just amazing how those little JRTs (and animals in general) can globally unite people who might have never known one another. We know it's scary donating money these days to so-called nonprofits. You never really know if your money is really going where "they" say it's going. We also know that there is so much negativity surrounding rescue. We live is everyday and only try to share it with you when necessary. We would much rather you feel empowered and knowing that you really can make the difference in a dog's life, no matter what stupid people continue to do to dogs. This, we can control.
As such, we promise to keep our end of the deal and keep showing and sharing the difference you are making in the lives of these little guys and girls who have been let down once … and some twice …
Updating the website is a little more challenging (just one designer/admin) than our Facebook page, so be sure to "Like" us there to keep up on the latest and greatest.
In closing, if you haven't seen our video of who we are, what we do and how your donations help, here it is …