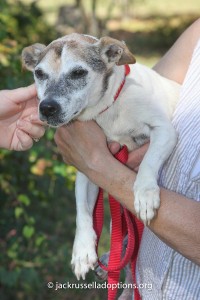 Our sweet Skip has had a rough couple of weeks. We didn't want to alarm anyone because we know how many of you love him as much as we do, so we kept it hush until we knew something for certain.
As many of you know, we are living on borrowed time with this precious boy. Between his age and degenerative disc disease, we thank our lucky stars for every day we have with him. He is fast on the track of becoming our next "million dollar dog" (we have at least one or two of those every year – what can we say?), but we wouldn't trade the experience with him for anything. At least he will go to the Rainbow Bridge one day, knowing those last years of his life were full of love. If you don't know his history, you can read it here.
This little trooper struggles daily with his DDD – nothing painful; we would not allow that. He has a good days and he has bad days. And then he has some really bad days … like the past couple of weeks …
A skin infection set in a couple of weeks ago that quickly spread across him tummy and back legs. Within days, his fur was gone and he looked (and we could tell) felt terrible. He wasn't scratching, but the sight of this adorable boy looking so bad again sent tremors into our hearts. The vet diagnosed him with a fungal infection, and we put him on antibiotics. Unfortunately, it only grew worse … and dramatically. Given his age, disease and the fact that he refuses to let us know if he's in pain, we were worried sick. We had to know what was going on and how we could help him
Kimberly and Kasey, two of our vols/adopters, took him to a specialist on Thursday, and we are overjoyed to share that it's nothing major. It is fungal AND bacterial. His bloodwork and urinalysis were good and his skin scraping was negative. Thank goodness! Additional tests were run, and Friday morning we found out that it is a problem with his thyroid that is causing this issues … and nothing some good meds cannot cure and get him looking like spiffy Skippy again.
We took some pictures for our records, but have decided not to share. We couldn't stand to see them; we know you don't want to either. We'll just post this pic of Mama Donna and the vols comforting him before his appointment and, as soon as we can, post a photo of him recovering.
We are working on his YouCaring fundraiser and gathering his invoice to publish (we want you to know exactly where your money is going and give you the chance to donate to his vet instead, if you prefer), but if you would like to donate now, you can do so by clicking the Donate button below.