As a  Jack Russell fan/owner, you obviously appreciate the finer tings in life – like wine! Or  maybe you just need something to steady your nerves after your Jack's latest adventure …
Whatever the case, we are excited to introduce our new line of Tipsy Terrier wines. You can select from six savory varieties, a four-pack sampler or collect all six unique bottles. Just order online or via fax, mail or phone call to have them delivered to your door; a portion of the proceeds above the distributor's cost will go directly to the rescue.
How to Order
There are three ways to order wines. Please note that they all require you be over 21 and show your ID when you sign for the package, i.e. your Jack can't sneak behind your back and order it!
Order Online
Go to our online store and shop for your selections, adding them to your cart. Check out using any major credit card and their secure server.
Download Order Form
Download the wine selection and the order form and print them out. Complete the order form and either mail or fax it to the address at the bottom of the order form. Please note: We are not handling the distribution.
Call the Distributor
View the the wine selection or visit our online store and decide what you would like to order. Then call BenefitWines.com at (978)297-5477 and tell them you are ordering wines from Georgia Jack Russell Rescue.
Keep Us Updated
We will receive a quarterly statement from the distributor on sales, but it will probably not include who purchased what. We always love to know who is supporting us, though, please feel free to email us or post on our Facebook page a pic of you enjoying your Jack'ed up wine … just make sure your Jack doesn't get any.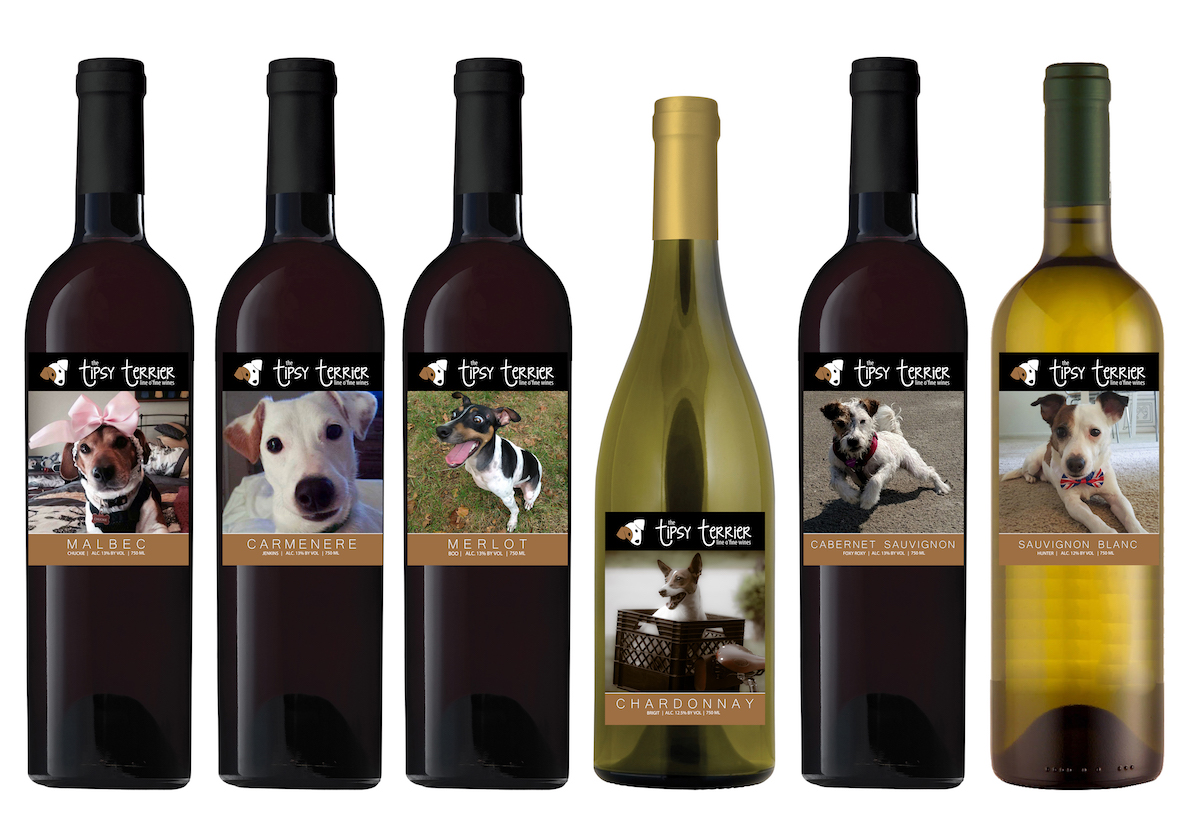 Those Lovely Labels
All of the dogs featured on these lovely labels are winners in a recent online fundraiser photo contest we conducted to raise more than $2,700 for the rescues!
Malbec – Chuckie, one of four GA JRT rescues in his family and part of The Adventures of Pumpkin and Company. This wonderful boy left us for the Rainbow Bridge in 2017, but his pretty, er, handsome mug will live on, on the label!
Carmenere – Jenkins, the gorgeous life of the party who by popular vote!
Merlot – Boo, a former GA JRT rescue with a special disability … and a heart of gold
Chardonnay – Brigit, the girl who led her mom to all of this marketing madness five years ago and three more GA JRT rescues in The Jack Pack of GA
Cabernet Sauvignon – Foxy Roxy … let's just say it, the name alone says it all, even without her adorable photo … which says even more … Foxy lady!
Sauvignon Blanc – Hunter, another former GA JRT who went through two bouts of heartworm treatments and patiently waiting before finding the family of his dreams
Add Your Own Label
Want to use your own photo on the label instead? No problem! Just select Create Your Own Six-Pack, upload your photo, select your varietal, and wait for your package to share with friends.