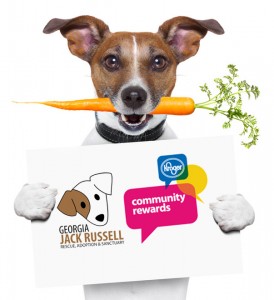 This is a republish from out original post in October 2013. Some of us have noticed that our charity selection has "expired," so we are reposting for everyone on how to enroll or re-enroll.
Want to earn money for the Jack Russells just by shopping at Kroger? Now you can!
We are thrilled to have been accepted into Kroger's Community Rewards Program!
What does this mean to you? By taking a couple of minutes to sign up and register your Plus Card online, you'll earn rewards that translate into donations for our rescue every time you use your card (or your associated phone number) at checkout! It's absolutely that simple!
And it's not just in Georgia, either: This awesome program extends to all of our friends and supporters in Alabama, Louisiana, Michigan, Ohio, South Carolina, Tennessee, and Texas!
Sign me up!
To get started, grab your Plus Card and follow the instructions below. If you do not have a Plus Card, you may pick up one at the customer service desk at any location in your area or enter your phone number to create one during sign up.
Visit this link to sign up >> krogercommunityrewards.com
Find your state and click the pink Enroll Now button.

If  you are an existing online customer, use your email and password to sign in, then click the My Account button.
If you are a new online customer, click on the Create an Account button in the top right corner. Enter your email, desired password and then your zip code to find your preferred store. Once everything is correct, click the Create Account button. You will then receive a message to check your email inbox and click on the link within the body of the email. Once logged into your account, add your Plus Card number and your last name or use your phone number under Plus Card to create a digital one using your phone number. Once you are signed up, go to My Account.

Once you are at the Account Summary screen information, click the Edit button under Community Awards.
In the Find Your Organization box, enter 20121 and click Search. This will bring up our organization.
Click inside the radio button (circle), then click Save.
Congratulations! You're all signed up!
Do you use your phone number at the register, too, or instead of? Call 800-576-4377 and select option 4 to get your Kroger Plus card number.
Now that you're signed up, use your card and/or your phone number when shopping for each purchase to help out the JRTs!