UPDATE: Please note, the Beer Night originally scheduled for Thursday has been postponed. In light of the theft of $30,000 in food from Intown Healthy Hound's warehouse, they are very much in need of a benefit of their own right now. As such, one has been scheduled for this Thursday night at the following:
Hodge Podge Coffee House
720 Moreland Ave SE
Atlanta, GA
404-622-8525
Hodge Podge will have food, beer, live music, etc from 7-9pm.  A $20 donation at the door will go towards helping the store recoup their losses and keep the doors open. We encourage all of our local fans and friends to support them during their time of need.
——————–
Want to enjoy an evening of homebrew-crafted beer away from the kids? Or a morning of holiday Grinch photos with the kids? Want to make a difference in the life of a homeless dog, a needy child and a struggling local business hit by thieves while doing it? Want no more!
Beer Night
Intown Healthy Hound will host Beer Night at 7pm Thursday, Dec. 13. This is a recurring social event that is usually free, but this time owners James and Bridget Galloway respectfully request a $5 donation to our rescue to participate. You can also donate an unwrapped toy to the Toys for Tots program. And, if you really have the holiday spirit, you can donate both! Whatever you give will make some little dog or child very happy this holiday season. The homebrew will be crafted by brewmaster Crawford Moran. Please, leave both the two-and four-legged children at home for this event.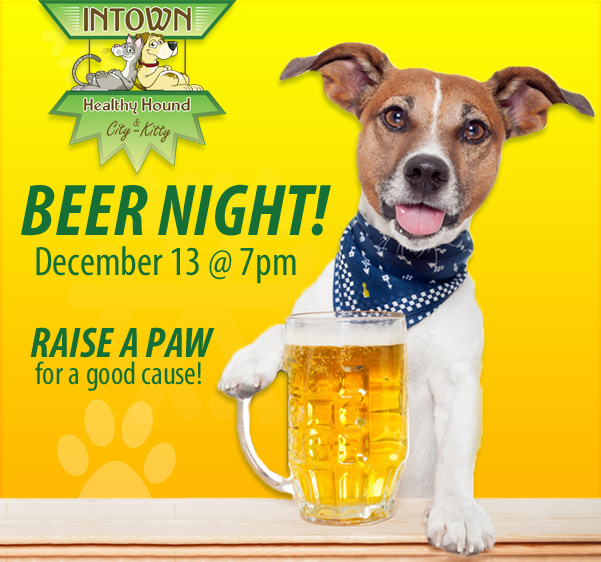 Angel/Bone Tree
Intown Healthy Hound will also be hosting an Angel/Bone Tree throughout the month of December in their store, located in the heart of Grant Park at 891 Cherokee Avenue in Atlanta. The tree will feature "ornaments" of each one of our rescues. You can "adopt" a dog simply by choosing one from the tree and purchasing that dog's unique wish. You can also buy locally-made and decorated bones at $3 for 1 or $5 for 3. All proceeds will go to our babies in need  … and to help pay our enormous vet bill, so we can get back to rescuing.
Photos with the Grinch
Hang on, there's more! This Sunday beginning at 10:30am, they are hosting a Grinch Event at Grant Park Farmers Market. That's right, the Grinch will be on hand for story time and photos. So, grab your little ones (the two-legged ones; leave the four-legged ones at home this time) and head out to have a photo of your family taken with the Grinch by photographer Kelley Klein. Cost is $20, but if you bring an unwrapped gift for Toys for Tots or an item to donate to us, the price for a photo is only $10.
Wish List for the Rescues
Small but significant donations on our wish list include the following:
Blankets and towels (gently used are welcome; no fraying, please, since some of our guys and gals like to floss with them)
Martingale collars
Leashes – six feet and strong; no retractable leashes, please!
Flea and tick treatments (any kind)
Laundry detergent, dryer sheets and/or bleach (these guys dirty up stuff like you wouldn't believe)
Dog chews or chew-related toys (please, be sure they are safe/easily digestible)
"Fetch" toys (these guys and girls love to play ball!)
Heavy-duty tarps for the kennels (10' by 10')
Gift cards to Home Depot or Lowe's to keep the kennels in good condition
If you are in the Grant Park or Atlanta area, we highly recommend you pick up any of the dog items above from Intown Healthy Hound. 😉
Let's Support Those Who Support Others
We are so honored and blessed that the Galloways have reached out to us for this wonderful fundraiser, especially given that they are going through their own financial challenges right now. You may have seen them on the news today after $35,000 worth of Pet Chef Express food was stolen from their warehouse. Not only does this food provide a specialty nutritional option to patrons of Intown's retail store and delivery service, it has also been donated to rescues like us. Whoever stole this food stole it from all of us. Not cool.
What's done is done, unfortunately. Now, we ask that our friends be on the lookout for the food being sold or distributed elsewhere. It comes in a white bag with black labeling that says Pet Chef Express.
Let's also support these small local business owners who have gone out of their way to support others. If you can't make it out to any of the events in December and/or are already strapped for cash this shopping season, please take a moment to visit their website, "Like" their Facebook page or sign up for their mailing list to keep in the loop. They are always up to something fun while striving to keep your pets safe, happy and healthy. They also believe in products and practices that treat our Earth kindly, too.  It ain't easy being green.