Our big annual fundraiser is coming up on June 24 and we could really use some items to help raise funds for the rescues. We need everything from small items, to big prizes, to handmade goodies. What we can't use for the fundraiser, we can definitely use for our next online auction this summer.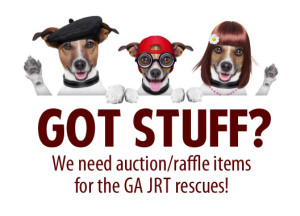 Here are just a few ideas of what we typically auction/raffle:
Almost any item with a Jack Russell motif, especially our logo (our own volunteers go hard for that – contact us if you need a template)
Bottles of win over $10 for the wine wall
Gift cards/certificates (restaurants, stores, salons, services, etc.)
Electronics, preferably new or gently-used
Jewelry, preferably new or gently-used
Purses or name-brand clothing, preferably new or gently-used
Sports or concert tickets to teams/venues in the Atlanta area
Artwork/artwork donated (personalized pet portraits always go over well)
Weekend getaways (timeshares, condos, cabins, etc.)
Pet merchandise/services
Items donated are tax-deductible. Thank you in advance for helping us help the dogs!
Where to Donate
Pickup/Dropoff Items
If you need pickup for your item, want to drop off your item at the rescue, or have any questions, please complete our form below, and we will do our best to answer any questions or arrange pickup.
If you know a volunteer, you can give directly to him or her.
Ship Items
If your item is small and/or can be shipped, please send to:
Georgia Jack Russell RA&S
Box 305
Avondale Estates, GA 30002