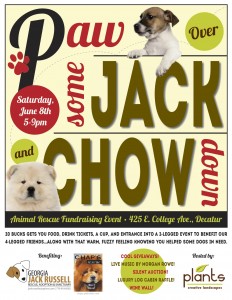 "Paw Over Some Jack and Chow Down" is almost here!
Scheduled for Saturday, June 8, the night should be an amazing one with great food and beer/wine, live music, a wine wall, a silent auction of amazing items, luxury log cabin raffle and so much more! Tickets are $15 in advance/$20 at the door and includes your drink tickets for the evening. All proceeds will go Chap's Chow Rescue and our rescue. The fun will go down at Plants Creative Landsdcapes' headquarters, located at 425 E College Avenue  in Decatur.
Our Sponsors and Supporters
Thank you to the following for making this evening possible:
Atlanta Acne Specialists
Michael Nelson
Delia Cochran
Karen Bennett
Sheryl Cherico
The volunteers at Chap's Chow Rescue
The volunteers at Georgia Jack Russell Rescue
How to Get Tickets
Advance ticket sales online have now ended. You can get your tickets are the door!
Help Us Promote the Event
If you live in the Atlanta area and would like to help us promote the event, please download and print out flyer.
Silent Auction Items
We have had so many people donate such amazing items, we are blown away. Here's a list of items up for bids – incredible stuff! We will also be using some of the donated prizes as door prizes.
Artwork
"Fiesty JRT" by artist Angela Bond
Mosaic glass art items by Leann Christian
Original floral watercolor painting by Australian artist Linda Bridges
Home Goods
BBQ grill (18.5″) from Home Depot
Set of 4 solar landscape lights from Home Depot
Set of 4 tiki torches from Home Depot
Ceramic Jack Russell cookie jar donated by Kathy White
Faulkner Zero Gravity padded recliner
Gift card from Pike Nursery
Gift certificate for 1 load of firewood from For All Seasons
Landscape cleanup services from Plants Creative Landscapes
Landscape sesign services from Plants Creative Landscapes
Ricoh Aficio SP C242DN color laser printer from Milner
Personal Merchandise & Services
Accupuncture sessions (3) from Mary Cook
Autographed copies of "A Dog's Purpose" and "A Dog's Journey" by W. Bruce Cameron
Cadillac accessory bag from Hennessy Cadillac
Certificate for general house cleaning (1 visit) donated by Terry Packard
Gift certificates for dermatology services from Atlanta Acne Specialists
Gift basket of hair products from Cut Ups
Gift card for ladies' haircut from Lux Studio
Gift certificate for haircut from Rutabega Salon
Gift certificate for haircut from Soge Hair Salon
Gift certificate for haircut/color or highlights from Grow Salon
Jack Russell handbags donated by Kathy White
Mary Kay cosmetics basket/gift card donated by Kimberly Samson
Microdermabrasion treatment from Dr. Q Cosmetics
Oxygen Facial Treatment from Dr. Q Cosmetics
Maui Jim certificate donated by Laura Miller
Oral B Smartseries 5000 Electric Toothbrush from Jeffrey C. Blankenship DMD
Personal Training – "10 Days to a New You" from Lisa Anderson
Photography: One 2-hour lesson or 2-hour portrait session from Becky Rentz
Tattoo gift certificate and shop T-shirt from Kingdom Tattoo
"Walk in the Park" by A Tail of Two sterling silver earrings donated by Jennifer Fernandez
Pet Merchandise & Services
Doggie playcare (10-day pass) from K&B Elite
Doggie playcare (10-day pass) from Rex & Roxy's
Gift baskets (2) from Tucker Pet Supply
Gift certificate for home visit and vacs from Compassionate Care Mobile Vet
Gift certificate for 5 days' boarding from Pet's Playhouse on Ponce
Gift certificate for basic obedience training classes from Frogs to Dogs
Grooming session from The Fur Side
Group obedience training session (6 weeks) from Jabula Dog
Academy Pet portrait session from Parker Pet Portraits
Restaurants
Gift card from Avellino's Pizza Pub
Gift card from Edible Arrangements
Gift card and 64-ounce growler from the Beer Growler
Gift card from Sweet Dee's Bakeshop
Gift card from Sugo's Restaurant
Travel coffee mugs and gift cards (2) from City Lights Café
Sports and Entertainment
CNN gift bag and 4 CNN Studio Tour tickets
Gift card for dinner and a movie donated by Laura Miller
Golf lesson package from Edwin Watts Golf Academy
Mexican Party Basket donated by Laura Miller
Plane ride (1-hour/1 person) donated by Briarcliff Animal Hospital
Plane ride (1-hour/4 people) donated by Briarcliff Animal Hospital
Road or mountain bike tune-up from Bikeways of Tucker
Tickets (5) for Friday/Saturday show from Village Theater Comedy Theatre
WNBA Dream Team Suite with 20 tickets donated by Laura Miller
Travel
Condo in Cabo (1-bedroom) for a week donated by Briarcliff Animal Hospital
Condo in Cabo (2-bedroom) for a week donated by Briarcliff Animal Hospital
Condo in Sandestin (4-night stay) donated by Milner
One-night stay at Chateau Elan
Weekend stay in a luxury Smoky Mountain cabin from Watershed Cabins