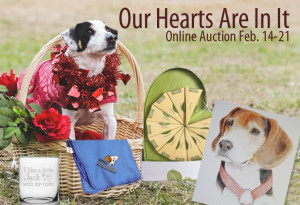 It's long overdue, but it's finally here — our new online fundraiser called "Our Hearts Are In It."
Today is Valentine's Day, and February is Heart Month, so it seemed only applicable to call it that. But what's more applicable? All proceeds from this auction will go to help cover the costs of our many dogs currently receiving heartworm treatments.
As some of you may know, we are one of few shelters/rescues who doesn't shy away from taking in and treating dogs with heartworm — many with slight positives who went on to find fabulous homes, some with permanent damage that inevitably ended their precious lives way to soon. We are strong proponents of monthly heartworm preventative — always have been, always will be, as we've seen its nasty effects that could have been easily avoided, especially in the South.
Slow kill for dogs requires monthly preventive and sometimes finger-crossing that it works; fast kill is much more effective, but expensive and intensive for the dog. It is a case-by-case basis, and none of this is recouped in our adoption fee. We must fundraise to cover the costs … which brings us to this auction.
We will be adding a few more items over the next few days, but we wanted to get things kicked off today! Thanks to all of our wonderful sponsors who donated towards this auction.