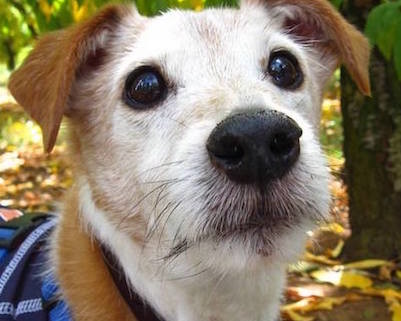 My wife and I have followed Georgia Jack Russell for a number of years now and truly appreciate the great work you all do.  We were actually close to adopting Kennedy, but had to back out.  This was a very difficult decision for us to make, but we had recently lost our JRT, Peanut, and were not ready to bring another senior pup into our lives.  We were, and remain, extremely grateful for the understanding we were shown in this process. My wife often sees his updates on your Facebook page, and we are thrilled he is happy and healthy (and climbing stairs!).
We would like this memorial to be for Peanut. We adopted him when he was 11 years old in 2011. He was full of affection, energy, and attitude! He developed Nephritis, which was diagnosed around Christmas of 2013. We did what we could to keep him happy and healthy and helped him pass on in November of 2014.  Not a day goes by that we don't think of Peanut and what a wonderful part of our family he was.
Thank you all for the amazing work you do.
– Richard and Chelsea