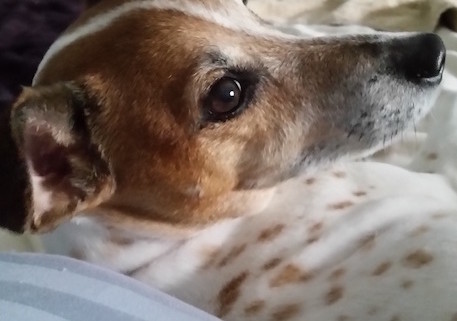 Baby Isaiah was my first love. Ironically, I was not looking to get a dog but accompanied my friend to a pet store and was immediately taken by his beautiful face and soulful eyes.  It was love at first sight.  I picked him up and he gave me the sweetest kisses.  That was all it took; I was done.  Interestingly, not only did he win me over but my husband as well; he had never been an animal lover.
Isaiah became the center of our world.  I believe God puts angels in our lives for a reason.  Here we thought we were doing something great for him, never expecting what he gave us was so much more.  We even ended up getting another Jack Russell (Chulie) to keep him company (who would have known).  The two of them together caused havoc and much laughter in their doggie daycare, as only Jack Russells can do.
Our Isaiah was the sweetest, funniest, most intelligent, and strongest thing ever.  Truly an inspiration.  Unfortunately, at the age of 2 he was diagnosed with cancer and endured 1 year of chemo; the prognosis was not good.  Guess what! He proved them wrong he was with us another 8 years.  However, again our little boy got sick; diagnosed with severe congestive heart failure.
Living in Florida, he had never seen the mountains so we decided to take him up to Georgia.  He loved it – running around, playing with his sister, and every once in a while, quietly looked at the mountains in awe.
While in Georgia he passed away.  I would like to think he fell in love with the mountains as much as we did and decided this would be his resting place.  We miss him terribly but know we will see him again.
Since his passing I have been monitoring your site.  Thank you for the wonderful work you do and for educating people on the misconceptions many have about Jack Russells; they are truly a special and loving breed.
– Merari Santiago