My Wishes
Howdy folks! L'il lop-eared smiling Skeety here. I arrived here with my older brother, Odie, earlier in the year. He wasn't feeling good and was very scared of everything and everyone. Me? Not so much. I'm a younger, outgoing and active boy, so we got into a couple of squabbles. I don't mind most dogs, but sometimes I would prefer to be with people. My whole face lights up when they come to take me for a walk, field trip or even just a trip to the field.
Mama Donna says I tear up beds and sweaters, so I guess I can't have any of more of those. Silly me. What I would really love is something to keep me busy in my kennel between ventures out to play. Maybe one of those Busy Buddy treat/puzzle toys? I could also really get down on a good Nylabone or Benebone or an "indestructible toy."
And, of course, one thing all of us need but rarely get donated is flea/tick medication. It's essential here in the South.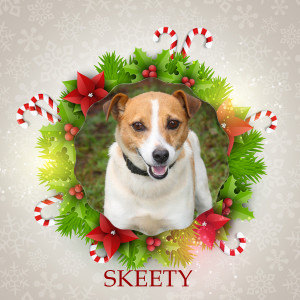 Where to Buy
If you live in Atlanta, you can pick up these items at Dog City Bakery II, 6309 1-D Roswell Road in Sandy Springs, or at Tucker Pet Supply, 2218 Fellowship Road in Tucker. You can leave them at the store, along with a note for me, and our little elves will pick them up for me before Santa's delivery on Christmas.
If you don't live in Atlanta, you can visit our Amazon Wish List and find any of these things to ship directly to the rescue.
If you would like to donate to me directly for the holidays and let Mama Donna pick the best thing for my immediate needs, you can do so by visiting my page.