My Wishes
Sweetie Petey here! I sure hope that I find a foster or forever home soon. I've been in a couple of rescues for longer than I deserve. I've been such a great boy. I play nice with others, both four-legged and two-legged, and have so much love to give. Maybe people are worried that I have heartworm, but you shouldn't be – I am being treated and, like many dogs who have come through here before, should be just fine.
One thing Mama Donna says I need it a little wider martingale collar. The standard/1″ ones don't work well on me. I love everything about and in life (including people), so I would be content with just about anything I get for the holidays. Premium treats?  An elevated outdoor bed or self-warming mat for my crate? A tough toy? All good with me! I'm easy to please.
And, of course, one thing all of us need but rarely get donated is flea/tick medication. It's essential here in the South.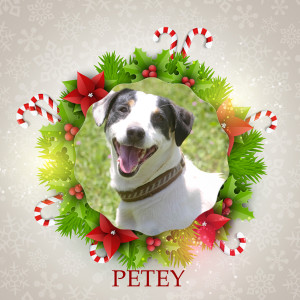 Where to Buy
If you live in Atlanta, you can pick up these items at Dog City Bakery II, 6309 1-D Roswell Road in Sandy Springs, or at Tucker Pet Supply, 2218 Fellowship Road in Tucker. You can leave them at the store, along with a note for me, and our little elves will pick them up for me before Santa's delivery on Christmas.
If you don't live in Atlanta, you can visit our Amazon Wish List and find any of these things to ship directly to the rescue.
If you would like to donate to me directly for the holidays and let Mama Donna pick the best thing for my immediate needs, you can do so by visiting my page.