My Wishes
Pepper here! I arrived here a few months ago when my father had to go off to college and couldn't take my brother, Cole, and me with him. He's all we have known, so it's been a bit of an adjustment. My brother got a little overprotective, and I am very submissive, so we were separated but housed next to each other. He still tries to steal my food through the fence (silly brothers), but we are doing a lot better now.
I'm incredibly sweet and really only want to be loved and adored by people. But, if I had to ask for something, I need a harness that fits. The small Puppia ones are too small for me and the medium ones are too big. I need something in the middle. I would also like any kind of outdoor toys, premium treats, or a Benebone.
And, of course, one thing all of us need but rarely get donated is flea/tick medication. It's essential here in the South.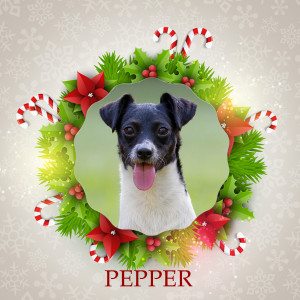 Where to Buy
If you live in Atlanta, you can pick up these items at Dog City Bakery II, 6309 1-D Roswell Road in Sandy Springs, or at Tucker Pet Supply, 2218 Fellowship Road in Tucker. You can leave them at the store, along with a note for me, and our little elves will pick them up for me before Santa's delivery on Christmas.
If you don't live in Atlanta, you can visit our Amazon Wish List and find any of these things to ship directly to the rescue.
If you would like to donate to me directly for the holidays and let Mama Donna pick the best thing for my immediate needs, you can do so by visiting my page.