Penelope
Yes, I know, I'm so stinkin' adorable! I hear it all of the time … and I never get tired of it. I went through a bit of an ordeal this past year. Not only did I end up at the kill shelter before landing at rescue, I had been hit by a car and had a fractured pelvis. My tail never healed, and it had to be removed altogether.
But that's all behind me now! My fur has grown back, my whole body wags, and I love to play ball and run like the wind.
I would like treats, toys or balls. I especially like the long toys that crinkle or have multiple squeakers. Those are so fun! I'm fabulous at fetch, so Chuck-It balls or JW Balls are always great. And what fluffy girl doesn't love yummy premium treats?
And, of course, one thing all of us need but rarely get donated is flea/tick medication. It's essential here in the South.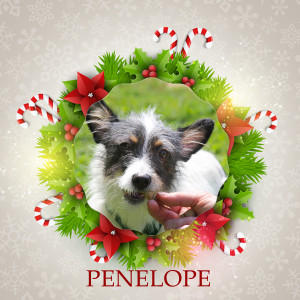 Where to Buy
If you live in Atlanta, you can pick up these items at Dog City Bakery II, 6309 1-D Roswell Road in Sandy Springs, or at Tucker Pet Supply, 2218 Fellowship Road in Tucker. You can leave them at the store, along with a note for me, and our little elves will pick them up for me before Santa's delivery on Christmas.
If you don't live in Atlanta, you can visit our Amazon Wish List and find any of these things to ship directly to the rescue.
If you would like to donate to me directly for the holidays and let Mama Donna pick the best thing for my immediate needs, you can do so by visiting my page.