My Wishes
Hello, there. Odie here. You may have heard that I had some recent issues at the vet, where I spent quite a while going through treatments. They discovered I have disc and cartilage issues, not to mention a bad tooth. I am now on glucosamine and other treatments and feeling pretty good. If you want to donate directly to my enormous bill, you can certainly do that online or by phone.
I'm not much of a ball or toy boy. I prefer to take it easy, so I could also use something to lie on — indoor/outdoor self-warming pads/blankets for my Dogloo or crate in winter or the mesh/elevated beds for the warmer months. My teeth are also aging, so Greenies or Nylabones would be great to help keep them active and clean.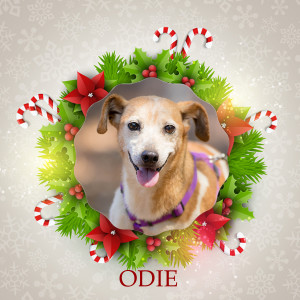 Where to Buy
If you live in Atlanta, you can pick up these items at Dog City Bakery II, 6309 1-D Roswell Road in Sandy Springs, or at Tucker Pet Supply, 2218 Fellowship Road in Tucker. You can leave them at the store, along with a note for me, and our little elves will pick them up for me before Santa's delivery on Christmas.
If you don't live in Atlanta, you can visit our Amazon Wish List and find any of these things to ship directly to the rescue.
If you would like to donate to me directly for the holidays and let Mama Donna pick the best thing for my immediate needs, you can do so by visiting my page.