My Wishes
Maggie Mags here! How are you? I ask because I love all people and I want you to be happy! If you're not, spend a little time with me and you, too, will be smiling up a storm! That's why I can't wait to find my forever home. I am going to make someone as happy as they make me.
While I wait, I'd like to keep busy between kisses. That's why I could use what most of the other dogs here need – flea/tick preventive, premium food and treats, tough toys, Nylabones or pressed chews.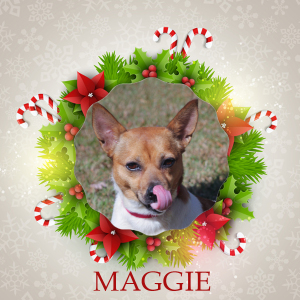 Where to Buy
If you live in Atlanta, you can pick up these items at the two locations hosting our angel trees, including Intown Healthy Hound at 891 Cherokee Avenue in Grant Park or at Dog City Bakery II at 6309 1-D Roswell Road in Sandy Springs. You can leave them at the store, along with a note for me, and our little elves will pick them up for me before Santa's delivery on Christmas.
If you don't live in Atlanta, you can visit our Amazon Wish List and find any of these things to ship directly to the rescue.
If you would like to donate to me directly for the holidays and let Mama Donna pick the best thing for my immediate needs, you can do so by visiting my page.