My Wishes
Hi, everyone! I'm Jackie. I've been here for several years and, unfortunately, may spend my golden years here. I would really love to find a forever family who would love an older gal like me, but while I wait …
You may know that I am allergic to just about everything under the sun, from outdoor influences to food ingredients. As such, I have to stay indoors a lot and have a very limited diet. I can only have beef or salmon food and treats that are free of grain, wheat, corn and all of the other fillers. I am an indoor dog, so I can have any kind of toys (indoor or outdoor) as well.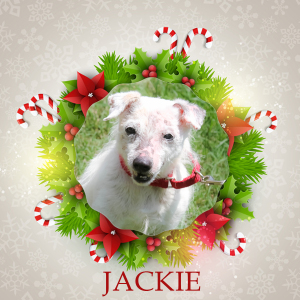 Where to Buy
If you live in Atlanta, you can pick up these items at the two locations hosting our angel trees, including Intown Healthy Hound at 891 Cherokee Avenue in Grant Park or at Dog City Bakery II at 6309 1-D Roswell Road in Sandy Springs. You can leave them at the store, along with a note for me, and our little elves will pick them up for me before Santa's delivery on Christmas.
If you don't live in Atlanta, you can visit our Amazon Wish List and find any of these things to ship directly to the rescue.
If you would like to donate to me directly for the holidays and let Mama Donna pick the best thing for my immediate needs, you can do so by visiting my page.