My Wishes
Howdy, folks! Hunter here and I am, yes, still "hunting" for my forever home. It's so hard to believe, considering how wonderfully sweet and smart I am. I love everything from sitting on your lap to playing ball. Why can I say, I love it all! Unfortunately, I don't always love other dogs. I'm getting better everyday, especially when I'm away from the kennels at special events, so feel to inquire.
While I continue to wait, I continue to play. I really love JW balls. We've received several already, but, well, I like to chew the squeakers out of them. Oops. I like the ChuckIt balls for playing in the field. I also need any of the other things all of the rescues here do, including flea/tick preventative, Nylabones and tough pressed chews to keep me happy and my teeth healthy.
Here's hoping my "hunt" for a home ends soon!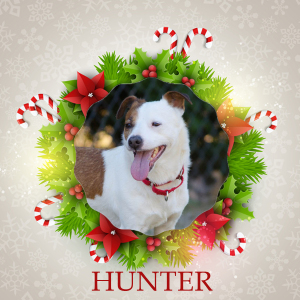 Where to Buy
If you live in Atlanta, you can pick up these items at the two locations hosting our angel trees, including Intown Healthy Hound at 891 Cherokee Avenue in Grant Park or at Dog City Bakery II at 6309 1-D Roswell Road in Sandy Springs. You can leave them at the store, along with a note for me, and our little elves will pick them up for me before Santa's delivery on Christmas.
If you don't live in Atlanta, you can visit our Amazon Wish List and find any of these things to ship directly to the rescue.
If you would like to donate to me directly for the holidays and let Mama Donna pick the best thing for my immediate needs, you can do so by visiting my page.