My Wishes
Hi! I'm Hartley. I've been here for some time and have even moved into "the house" because of my special needs. I've had extensive ear canal surgery since I arrived in 2012 and continue to have ongoing infections. I require a special diet, ear cleanings and medications to keep my ears healthy and me happy.
That stupid crap aside, I am charming beyond words! I may not be a Jack Russell, but no one here cares. Everyone who meets me falls in love with me. I have a smile that will, well, make YOU smile. I would love nothing more than to find a forever family to spoil me in my golden years (my previous family didn't do that), but … while I wait …
I very much love treats, but am also very much limited to what I can enjoy. Intown Healthy Hound has been helping Mama Donna select delicious grain-, corn- and wheat-free treats and food to help with my diet. They can point you in the right direction. I could also use some probiotics and some Pill Pockets to make my ear and allergy medications go down easier! My ever-awesome sponsor just bought me a new barn coat, so I am set for the winter! (Thanks, Auntie Anne!)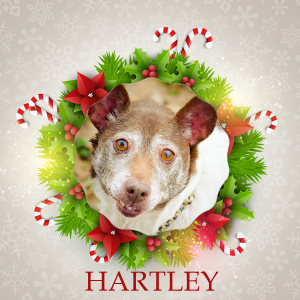 Where to Buy
If you live in Atlanta, you can pick up these items at the two locations hosting our angel trees, including Intown Healthy Hound at 891 Cherokee Avenue in Grant Park or at Dog City Bakery II at 6309 1-D Roswell Road in Sandy Springs. You can leave them at the store, along with a note for me, and our little elves will pick them up for me before Santa's delivery on Christmas.
If you don't live in Atlanta, you can visit our Amazon Wish List and find any of these things to ship directly to the rescue.
If you would like to donate to me directly for the holidays and let Mama Donna pick the best thing for my immediate needs, you can do so by visiting my page.