My Wishes
Howdy, folks! Little Floyd here. You probably know me as the "guy with no eyes," but there's so much more to me than that. I am a fun-loving, toy-hugging, race-running little man who doesn't let any so-called "handicap" slow me down. I'm ALL Jack and proud of it … which, of course, means I like all of the stuff that ever other self-respecting JRT does.
While I wait at the "foster senior center" for my forever home, I'd like to ask for a couple of things that would make life even better. You can't buy my very favorite thing (butt scratches!), but here are a couple of other ideas …
I'm a l'il chew hound, so any kind of healthy treats are welcomed. I also love anything that squeaks – bring on the toys, bring on the noise! Even though it doesn't get that chilly in Atlanta, it does sometimes. I could use a heavy winter coat (size small). My favorite kind is the Foggy Mountain brand, but anything similar to that (i.e., a "horse blankets for dogs" with Velcro straps) will do.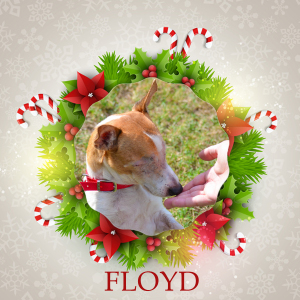 Where to Buy
If you live in Atlanta, you can pick up these items at the two locations hosting our angel trees, including Intown Healthy Hound at 891 Cherokee Avenue in Grant Park or at Dog City Bakery II at 6309 1-D Roswell Road in Sandy Springs. You can leave them at the store, along with a note for me, and our little elves will pick them up for me before Santa's delivery on Christmas.
If you don't live in Atlanta, you can visit our Amazon Wish List and find any of these things to ship directly to the rescue.
If you would like to donate to me directly for the holidays and let Mama Donna pick the best thing for my immediate needs, you can do so by visiting my page.