My Wishes
Flash here! As you may recall, I was a "surprise discovery" at the shelter a year ago. The vols weren't coming to evaluate or pull me, but when they met me, they just couldn't leave me behind. And why not? I'm awesome! I mostly love to run, explore and learn new things … you know, be a Terrier! A large, well-fenced yard with room to roam and/or an adventurous, outgoing parent who has had Jacks before would be fabulous!
The thing I love most about being at rescue is being out in the field, running and exploring; also, visiting those big four-legged things across the street. I think they're called horses? I'm not a big-time ball boy, but it can be fun at times, so a Chuck-It or JW Ball would be nice. And, hey! Bring on the premium treats and a good bone, like a Nylabone or Benebone.
And, of course, one thing all of us need but rarely get donated is flea/tick medication. It's essential here in the South.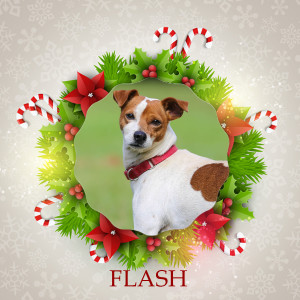 Where to Buy
If you live in Atlanta, you can pick up these items at Dog City Bakery II, 6309 1-D Roswell Road in Sandy Springs, or at Tucker Pet Supply, 2218 Fellowship Road in Tucker. You can leave them at the store, along with a note for me, and our little elves will pick them up for me before Santa's delivery on Christmas.
If you don't live in Atlanta, you can visit our Amazon Wish List and find any of these things to ship directly to the rescue.
If you would like to donate to me directly for the holidays and let Mama Donna pick the best thing for my immediate needs, you can do so by visiting my page.