My Wishes
Hello, there. I'm Daisy Mae. You may be wondering, "Who is this little girl?" This is the first time most of you have "met" me. I'm new to rescue … well, sort of …
I was pulled about a month ago from the kill shelter with the help of one of our incredible sponsors and supporters who fell in love with me via this (my shelter) photo. Unfortunately, I have spent those first few weeks at the vet because I had several health issues, inclusion pyometra (from having too many babies).
Now I'm at rescue, but still in the "healing house," waiting to come out and join the general population. Once I am able to, we'll take my glamour shots, post my profile, and work on finding me a forever home where I can be the baby for the first time in my life.
With that said, they really need help paying off my enormous vet bill. I don't have a profile page yet, but you can go to our donations page, make a donation and mention it's for me in the special notes in PayPal.
If you would rather buy something for me, I could really use a small jacket. We love the ones that are like blankets and attach with Velcro strips. I could also use a small Puppia harness. And, of course, any of us can use flea/tick preventative, premium food/treats, Nylabones, tough toys and pressed chews.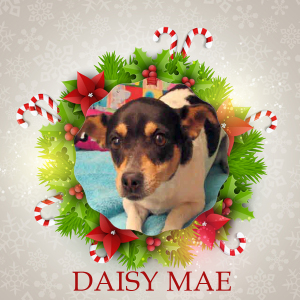 Where to Buy
If you live in Atlanta, you can pick up these items at the two locations hosting our angel trees, including Intown Healthy Hound at 891 Cherokee Avenue in Grant Park or at Dog City Bakery II at 6309 1-D Roswell Road in Sandy Springs. You can leave them at the store, along with a note for me, and our little elves will pick them up for me before Santa's delivery on Christmas.
If you don't live in Atlanta, you can visit our Amazon Wish List and find any of these things to ship directly to the rescue.