My Wishes
Cole here! I arrived here a few months ago when my father had to go off to college and couldn't take my sister, Pepper, and me with him. He's all we have known, so it's been a bit of an adjustment. I get a little overprotective of my sister, so we are now separated but housed next to each other. I still try to steal her food through the fence, but we are doing a lot better now.
I'm very young, very sweet and very active, soooo, Santa, I would love to have stuff to chew on and keep me busy. If you can truly find an "indestructible toy," I would definitely test it out for you. I'm a bit of a treat hound, so yummy treats are always good. Benebone would definitely help pass the time while I wait for my forever family.
And, of course, one thing all of us need but rarely get donated is flea/tick medication. It's essential here in the South.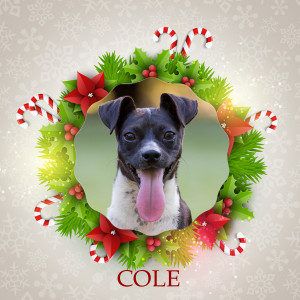 Where to Buy
If you live in Atlanta, you can pick up these items at Dog City Bakery II, 6309 1-D Roswell Road in Sandy Springs, or at Tucker Pet Supply, 2218 Fellowship Road in Tucker. You can leave them at the store, along with a note for me, and our little elves will pick them up for me before Santa's delivery on Christmas.
If you don't live in Atlanta, you can visit our Amazon Wish List and find any of these things to ship directly to the rescue.
If you would like to donate to me directly for the holidays and let Mama Donna pick the best thing for my immediate needs, you can do so by visiting my page.