My Wishes
Brooklyn here! You can call me the "smiling senior," but senior sounds so silly. "Mature" does, too. I am a happy little puppy in my head. I've just been around a little longer than these other guys and gals. I lost my human and I've had some health issues to overcome, but did that ever get me down? Heck no! "Adapt and overcome," I say! (Someone else says it, but I think I made it up.) And overcome, I have.
I get to spend time between "the house" at Mama Donna's and the "senior foster center" in Atlanta. My favorite things are squeaky toys. I especially love the ones with the multiple squeakers, but I will entertain myself for hours with any type of toy that makes noise.
That "want" aside, my "need" is definitely Pill Pockets. I require medications and, well, that's no fun. Those handy things make it easy for everyone to take care of me without me wanting to spit it back out. I also won't say "no" to a healthy (shhh, don't tell me they're healthy) treat as well.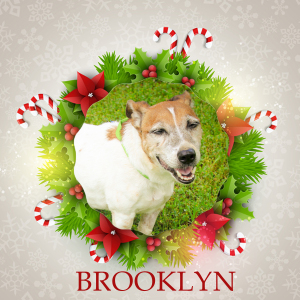 Where to Buy
If you live in Atlanta, you can pick up these items at the two locations hosting our angel trees, including Intown Healthy Hound at 891 Cherokee Avenue in Grant Park or at Dog City Bakery II at 6309 1-D Roswell Road in Sandy Springs. You can leave them at the store, along with a note for me, and our little elves will pick them up for me before Santa's delivery on Christmas.
If you don't live in Atlanta, you can visit our Amazon Wish List and find any of these things to ship directly to the rescue.
If you would like to donate to me directly for the holidays and let Mama Donna pick the best thing for my immediate needs, you can do so by visiting my page.