SAVE THE DATES: Live in Atlanta? Want to sample craft beers from a couple of our most-awesome local breweries? Oh … and … want to help Jack Russells while doing so? Boy, are you in luck! We will be hosting two brew/social nights this fall.
Social Night
First on the schedule is a social night Oct. 8 with Intown Healthy Hound at Eventide Brewing. IHH has gone above and beyond in the past to help rescues raise money with their social nights. This season, they are partnering with Eventide Brewing, who is getting rave reviews for not only their amazing craft beers but their awesome customer service, awesome tasting room and (yes!) dog-friendly areas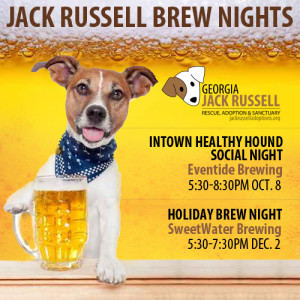 Holiday Brew
Next up is our annual holiday celebration. This year, we'll be conducting it at the ever-awesome SweetWater Brewing, which has become a staple of excellence in the Southeast. They are also big on giving back to the community, including rescues, and have offered up their awesome home for our brew night on Dec. 2. They, too, offer a dog-friendly patio.
Special Events Calendar
We'll have much more information coming on both of these events. We just wanted you and your four-legged friends to save the dates to join us.
Catch up on all of our forthcoming events here. If you plan to attend any of the events, please "join" us on our Facebook events page so we can know what to expect. 🙂