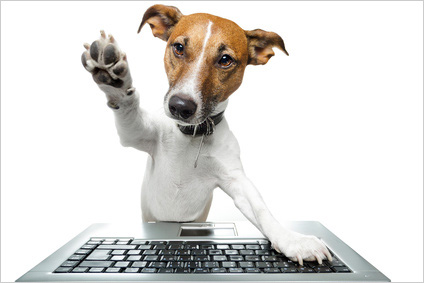 You helped us win 25 beds in the first Shelter Challenge and 100 vaccinnations in the second. Let's do it again – bigger and better this time by taking state and bringing home a $1,000 grant for Mama Donna's rescues.
The Celebrations Shelter Challenge (hosted by the Animal Rescue Site and PetFinder Foundation) is an amazing opportunity for shelters and rescues across the country to earn thousands of dollars in grant money every year to help us all keep doing what we do. They are at it again with a grand prize of a $100,000 going to the winning eligible shelter. That's not all, though – there are hundreds of other prizes that we are eligible to win and any single one of them would be a welcome gift!
How to Help
There are two ways to help: 1) a simple, anonymous daily vote and/or 2) by taking a few minutes now (and a few seconds each day or as you have time) to join Team Russell, voting  and recruiting others to join you in voting as well. The more we recruit, the better shot we have!
Here's how to do both:
Vote for Us
Point your browser to shelterchallenge.com. In the search section, enter "georgia jack russell" and select "ga" from the state drop-down, then click the Search button. This will bring up our rescue to select. When you click our name, you will automatically vote for us.
It will take you to this page that shows you have voted and can vote again tomorrow. That is literally all you have to do to help! Bookmark the page and visit it again in 24 hours to vote.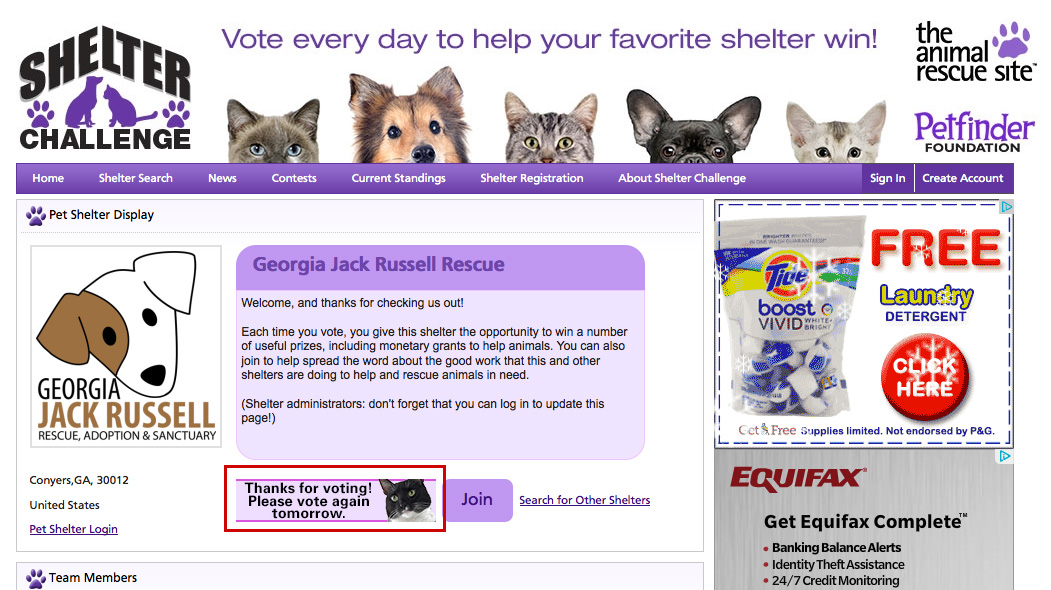 Vote for Us AND Join Team Russell
So you say you want to do more? Awesome! You can join Team Russell and help us recruit others to vote and/or join as well. Who knows, if you recruit the most, we may just have a special Georgia JRT gift for you. 😉
From the voting verification page, click the Join button.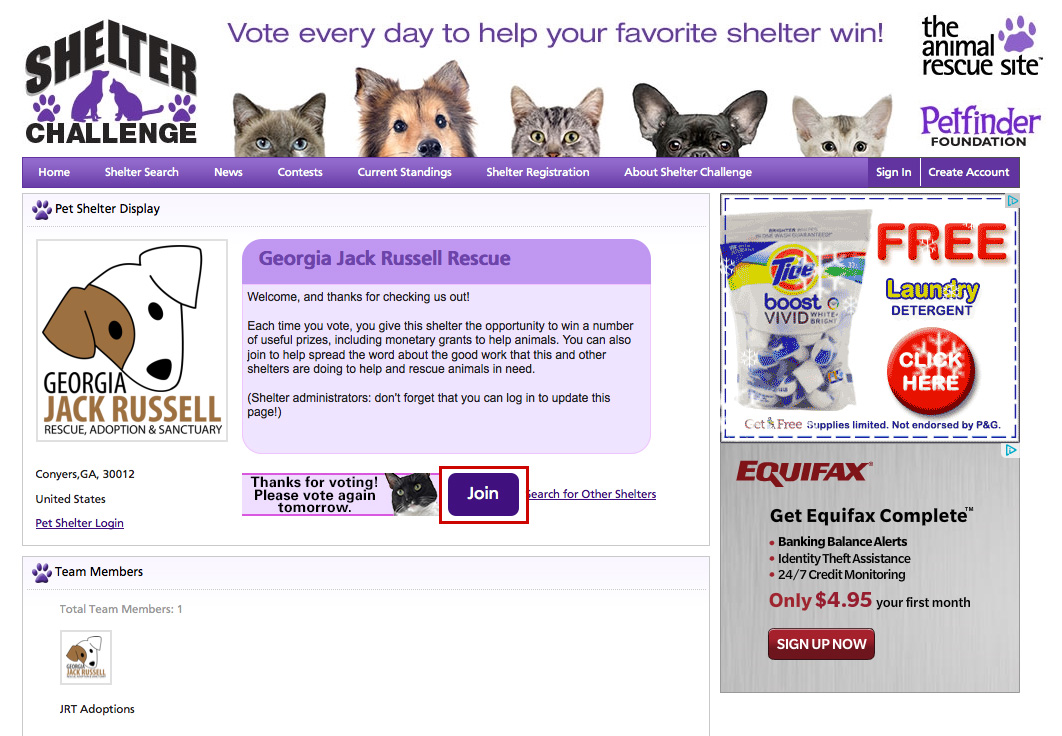 This will take you to the next screen, where the site will ask you for your user name and email. You can use whatever you want as your name, but you'll need to use a legitimate email address or you'll never receive the initial password to log in and participate.
After you've entered this, click the Choose Your Shelter button. (Yes, unfortunately, they ask you to enter it twice at initial registration; you'll never have to do this again.)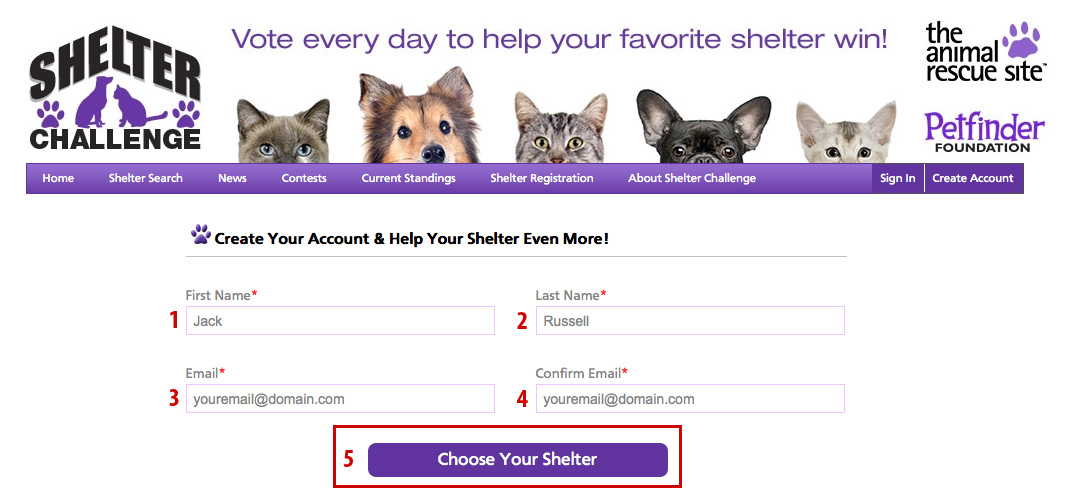 Once again, search for "georgia jack russell" and "ga" in the fields and click the search button. When we pop up, click the choose link.

This will take you back to the Create Account screen and you should see our name under the Choose Your Shelter button and Default Nominee Name. Next, check the required checkboxes and click the Create Account button to create your account.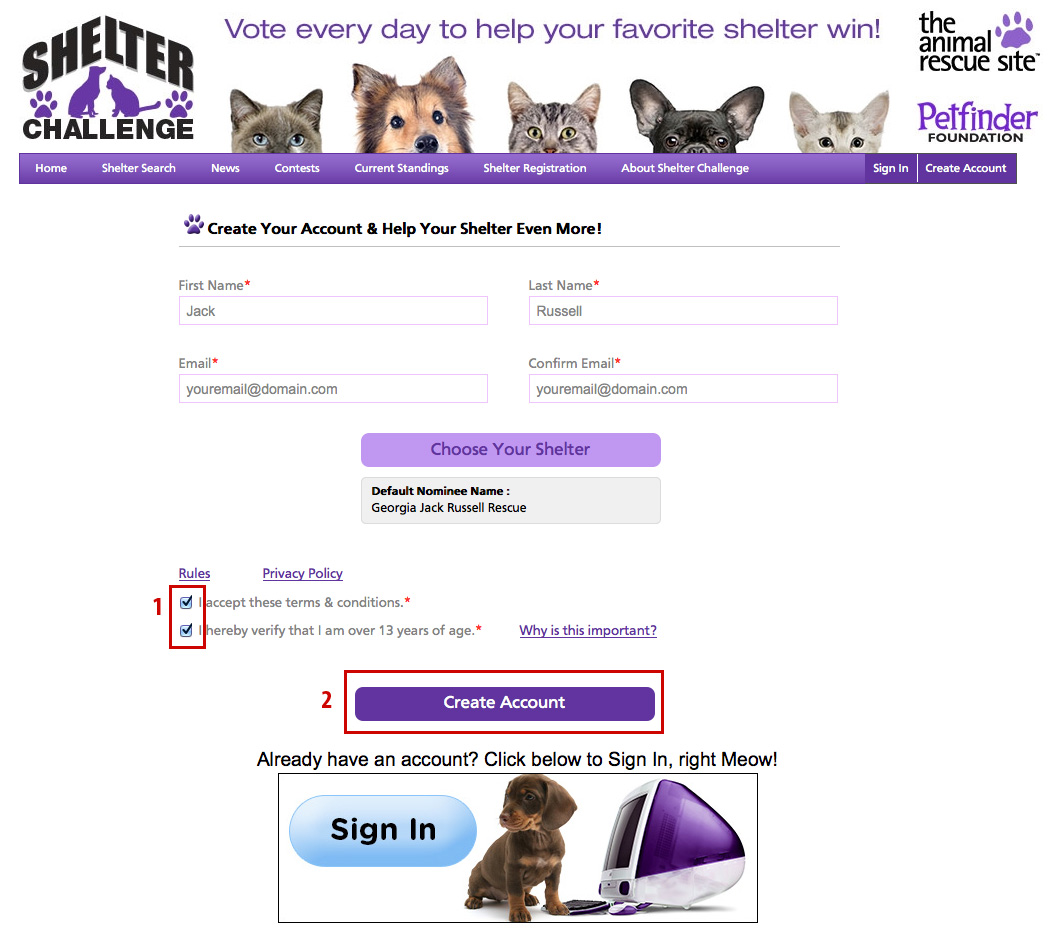 This will take you to the login screen and send a password to you via email. Copy and paste the password from your email to log into your account.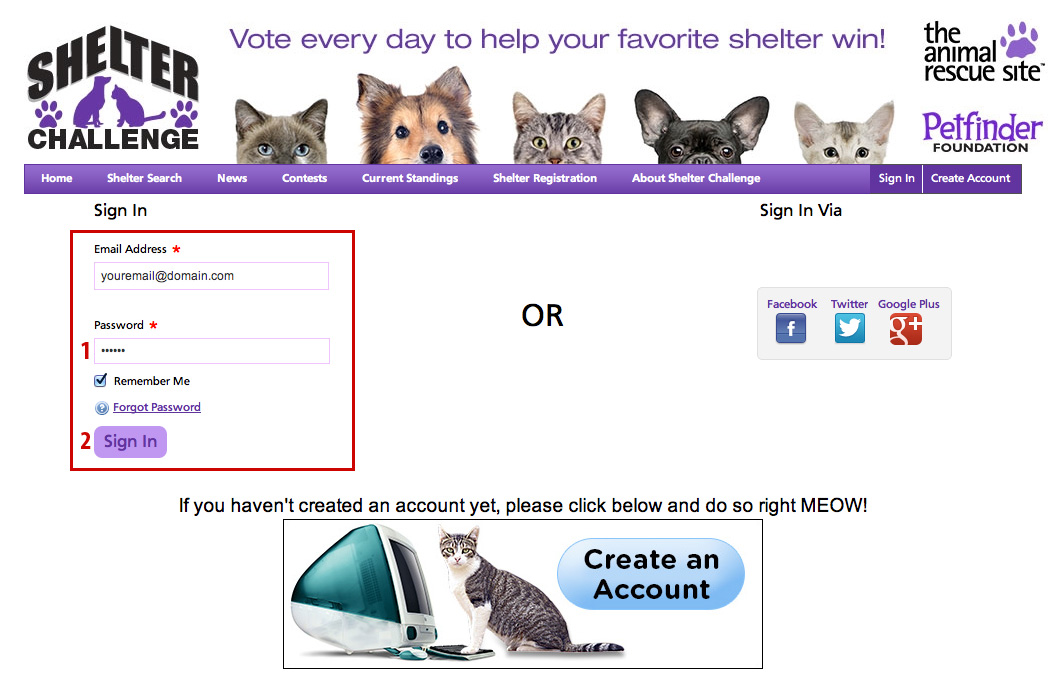 If you would like to simplify things and make logging in easier to do/remember, you can instead choose to use your Facebook, Twitter of Google+ account on the right side of the screen. Here's an example of signing up with your Facebook account. This will retrieve your profile pic and make recruiting a little easier.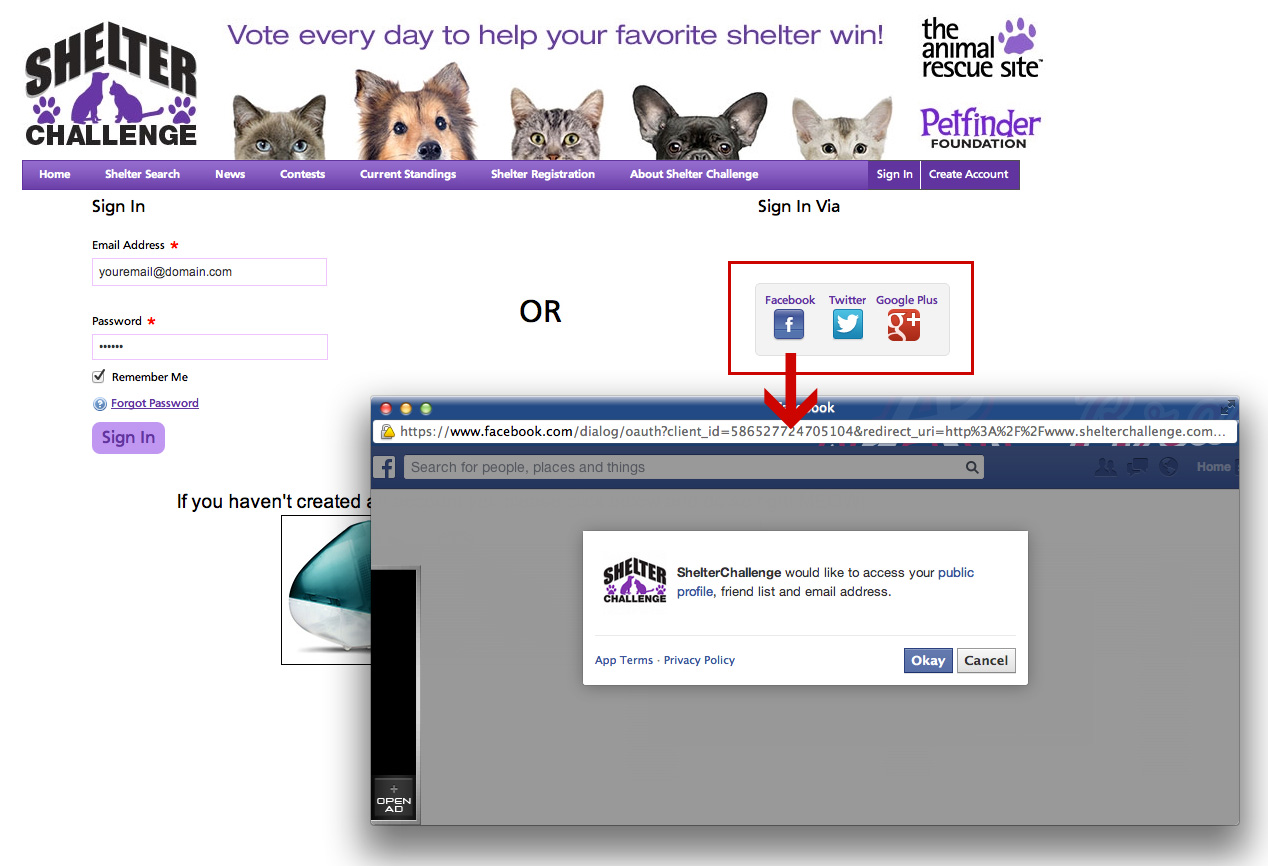 It will ask you for a password reminder after that to make sure you're really who you say you are.
Whatever route you take, you'll end up back at this screen. This time, however, you should see a welcome banner at the top and show your votes, recruiting efforts, etc.

From here, click the Your Totals & Rewards button to take you to an overview of your recruiting efforts and how you have helped so far. To recruit members, click the Recruit button. You can share the link to our voting page via Facebook, Twitter, Google+ or email. If you're logged into any of those services in your browser, it will connect you automatically; otherwise, it will ask you for authentication.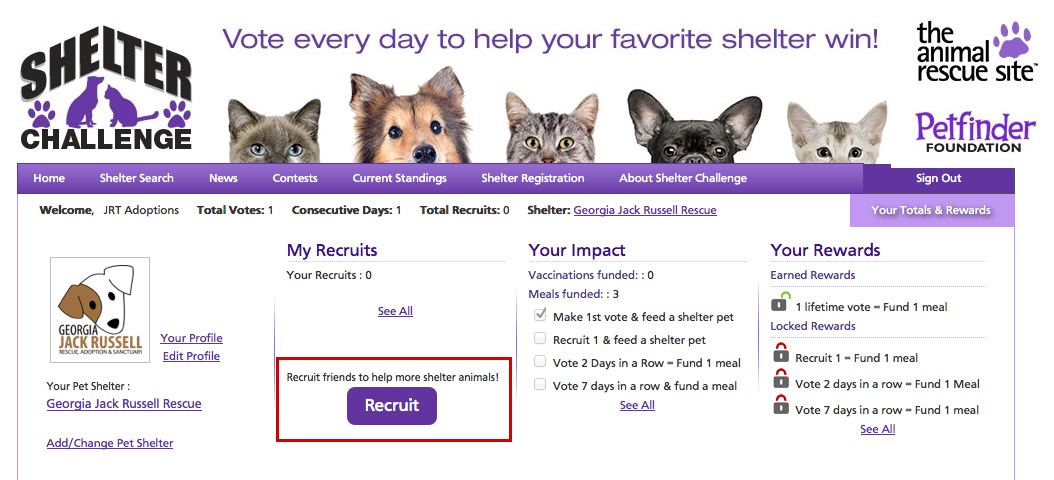 Write something if you want, then share on your wall. You can do this as often as you like through the deadline on March 30.