The volunteers had barely recovered from June's fundraisers when July arrived and it was time to do it again with another Vol Day and fundraiser.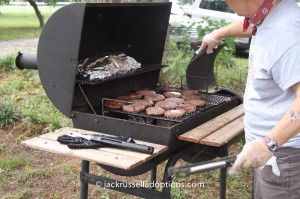 Vol Day Cookout
We finally did what we said we were going to do for months: We had a Vol Day cookout. (Hey, we like to play, too!) The turnout was great (we even added more volunteers to our growing family).  It was a fabulous day and a reminder that we have one of the greatest volunteer families on earth in Team Russell.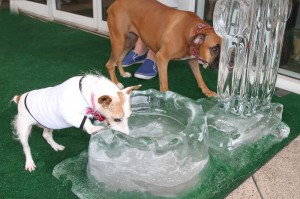 Dog Days Afternoon
In late June, we accepted the Westin Buckhead's invitation to join Ahimsa House for a "Dog Day Afternoon" celebration. It was a great chance for our adopted parents to bring out their babies to say "hi" and get to know one another. The dogs and their parents had a blast playing around the ice sculpture fire hydrant, and we we met Kevin and Elisa Schwutke, who have gone on to help us incredible ways.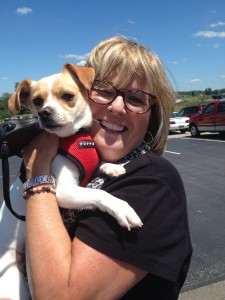 Zara's New Life
Although Zara arrived at rescue a little nervous and unsettled in April, she left with confidence in July to meet her forever mom, Jodi Collins, in Ohio. Once again, Kasey and Kimberly (K&K) stepped up to help with the transport. Anne Ross in Tennessee served as our go-between. Jodi is now an awesome companion dog to her mom, accompanying her on fundraisers and walks.