April was nothing short of mind-boggling!
Arrival of Exodus Six
In February, a rescue in a neighboring state was busted after the owner abandoned the rescue and the dogs. Most of them were Jacks … and many of them did not survive. Fortunately, many more did and were taken to a local shelter, where they received treatment and care while legal issues were settled. Once they were, the shelter frantically reached out to rescues throughout the Southeast to help.
We were full, but offered to take a couple … We ended up with 6 new dogs (later 7 when Dixie had to leave her foster home)!
The arrival of "Exodus Six" (as they were named on Facebook) was overwhelming for a small rescue like us. It was a massive scramble to secure any kennel we could to prepare for them. They all arrived with health issues – everything from major flea bites, to heartworm, to kennel cough, to rotting or damaged teeth, to digestion issues. You name it, these poor girls and boys had it … and we had to heal it.
It's been a long haul since April–emotionally, physically and financially, for the dogs and us. All of the dogs are doing well now, but we are still recovering from the vet bills. If you would like to donate, you can do so by going to our general donations page.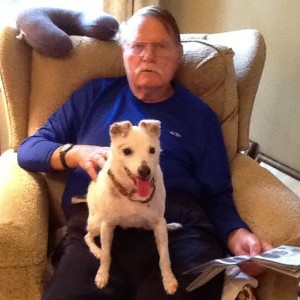 Bailey went home  to live with his forever dad, Billy Warren, in November, thanks to one our volunteers, Abby, for connecting the two. And what a forever life he is living! He has a huge yard, big house and plenty of parties to beg for treats at … and no one deserves it more.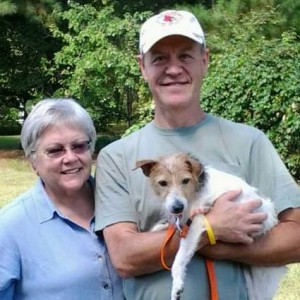 Sadie was scooped up by Tom and Kathy Bobbitt in September. They fell in love with her weeks before when they came to the ranch to help, but had to wait to get her until some summer travels had passed. These days, she is spoiled beyond words … and deserves every bit of it.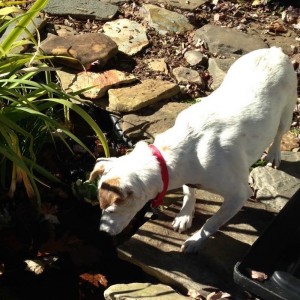 Sam completed his heartworm treatment and went to foster care with Sharon Brewster in November. He is enjoying life, learning manners and exploring everything he possibly can … as you can see. He is ready for his forever home now.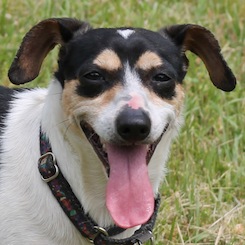 Pebbles is surprisingly still with us. She is the sweetest little Doxie/Terrier mix you could meet; loves other dogs and walks well on a leash. She is getting a little lazy around here, so we can't wait to get into her a forever home where she can be more active and engaged.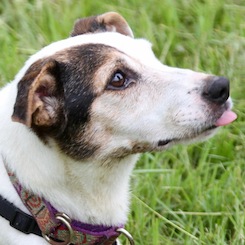 Rocky struggled with some digestive/pancreas issues, but has finally gained weight and is doing great. He's a super-smart, athletic dog who would love an active family.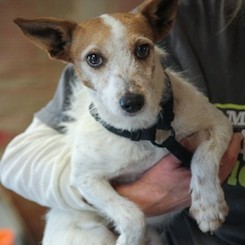 And Hannah? After months of running from Donna and the volunteers, we had a breakthrough with her in early November. She is now letting us love on her, pick her up, etc. We will continue our efforts to gain her trust, so she can go through her heartworm treatments. We are hopeful we can find a patient foster or forever parent to give her the attention she deserves. It won't be easy, but it may be the most fulfilling thing you ever do.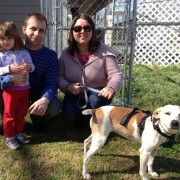 Bye-Bye, Arena
On April 6, we all shed a tear as Arena walked off her "catwalk" for the last time … and into a forever haven with her new family in St. Simons.
This precious girl has been with us for several years. She has always been overlooked because she's mostly Beagle and larger than the other Jacks. But Donna and the volunteers knew what a great dog she is. We loved taking her to the field and watching her run and play for hours. She loved attention, strutting back and forth on her bench, and munching on all the treats she could muster up from us. We knew she was going to be a great dog for someone and, someday, that special family would find her.
And they did.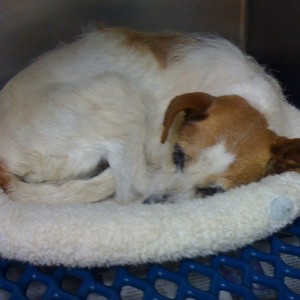 Goodnight, Sweet Clarisse
After months of struggling to get well in her foster home with Chad, Clarisse left us for the Rainbow Bridge on April 27. She took a turn for the worse the night before and crossed gracefully in the arms of her foster mother, next to Chad, that morning.
She had been abandoned by her family and came to us with very advanced heartworm issues. Her foster parents and the vet tried everything possible to help her pull through (and keep her comfortable), but her little body just wasn't strong enough.
Suffice to say, little Chad and we were heartbroken. The only consolation is knowing this precious girl spent the last few months of her life in a wonderful home, surrounded by the love and care she never had in her previous one.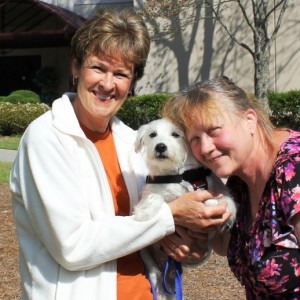 A Visit for Mama Donna
Seven years after being adopted, Scruffy from Florida paid a visit to Mama Donna in Atlanta with his mom, Janeen Langley. Janeen has been such an imperative supporter for so many years and has given an amazing forever home to Scruffy and his lovely, belated sister, Dixie. We are so thankful to her and all of our extended/long-distance family.