August was definitely the dog days of summer with us scrambling to adopt out the influx we had just encountered. In the midst, we kicked off Eli's Wish List, received some much-needed help and took in yet another precious dog who was down on his luck.
Campaign Trail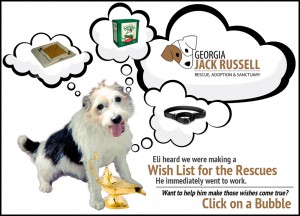 We kicked off several new promotions, including our Seniors for Seniors program, Eli's Amazon With List and Pawlee's  "Treat yours. Help others."
Through a Dog's Ear also sent us a collection of 15 CD sets to help calm the dogs. This has really proven effective for some of our more anxious dogs, and we have been thrilled to give them to adoptive parents. If you adopted a dog from us and did not receive one but would like one, please let us know.
We also put out a call to all adoptive parents for video and photos for our promotional video. Stay tuned, we're in the final phases of creating that and will be debuting it soon!
A Little Help

A much-needed grant arrived from the Petco Foundation. The funds helped assist us with multiple vet bills incurred during our larger-than-normal intake numbers this year. We were not sure how we were going to get through the summer, so the timing was priceless. It came and went to the vet quickly, of course, but we were thankful beyond words for the help.
Hartley's Road to Recovery Begins
Our favorite old man Hartley arrived at the end of August. His shelter photo, which featured him sporting some Freddy Krueger claws and looking nothing short of pitiful, had exploded on the rescue boards. He had hundreds of people rallying to save him and let him know what love means.
After the massive intake in July, we were definitely in no position to take on another dog, much less a senior with special needs. Alas, the outpouring of love and pledges for him was overwhelming and once he arrived from the kill shelter in Warner Robbins and smiled, it was all over. He was one of ours.
This sweetheart has suffered a lot of neglect in his life and is still recovering. He just had ear canal surgery last week. Once he is through this current challenge, we hope his suffering will end, once and for all. Despite his trials, he has been a beacon of sunshine at our rescue and, when he is ready, he is going to make someone an amazing dog.
[nggallery id=160]