Everyone is abuzz with Powerball fever tonight, but we can only think of one thing: Imagine what that money could do for homeless dogs everywhere! Alas, we aren't millionaires and don't forecast becoming one overnight. As such, we must publicly address something that has, unfortunately, been coming for some time and can no longer be avoided.
Adoptions & Sanctuary … for now
This was not an easy decision for us, but one that we, unfortunately, can no longer avoid. We are being forced to suspend the "rescue" part of our rescue, adoption and sanctuary mission for the time being. It's not something we want to do this (quite the contrary) and we hope it's very temporary, but it's something we must do for now in order to survive and continue doing what we are doing. We still have a couple of dogs in holding, though, so don't expect the new arrival photos to end any time soon. 😉
Why are we doing such a horrible thing?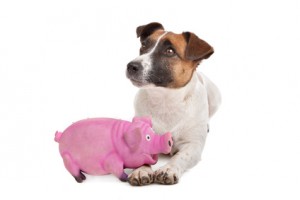 Winter is almost here, and all of our kennels are full. We received a huge intake of dogs over the summer, while only adopting out a few. We are not a business by any means (and, if we were, we would be bankrupt), but we are practical and know there must be a balance in order to move forward.
We are very low on operating funds at the moment after incurring a massive amount of vet bills in recent months. Our vet is wonderful and very thorough, but he cannot work for free and we would never expect him to. We have openly shared the trials that Chloe and Pippa endured in October, but there were many more we didn't talk about a lot or at all, including several respiratory infections, an emergency abscess removal, an unforeseen tiff between a couple of dogs (it happens) and (surprise, everyone!) the delivery of a litter of beautiful puppies to one of our latest arrivals. (We've been keeping that under wraps in respect of Mom, but will have news and photos for you soon!)
With dropping temperatures in the evenings, all 25 dogs currently in our care must be moved inside to the indoor kennel to be kept warm and safe. We want to make sure that everyone gets outdoors and exercises as much as possible during the day, so you guessed it: That means all 25 dogs must come back out in the morning. Sometimes we have help, but oftentimes we don't—and our owner and almost all of the volunteers work full-time jobs.
Most importantly, though, we need to focus on the beautiful dogs we have committed to right now. They are and must remain our first priority, and we will not do anything to risk their care. They have each been through so much already. It is our hope that all of them will eventually find forever homes, but we are aware that several of them will probably spend their golden years in our sanctuary due to health or behavioral issues.
Any threat to the priorities listed above can shut down a rescue in a heartbeat. As much as we would love to save every homeless Jack on the planet, we simply cannot take that risk right now.
Rescue Alternatives
Although we cannot accept any dogs at this time, we can't stand the thought of any Jack being put down for being, well, a Jack. If you have arrived at our website looking to surrender a dog, below are some online alternatives to try while we are embargoed from rescuing. We may eventually try to put together a forum/posting of our own for third-party rescues, but we are busy getting things done in other areas right now.
Our Facebook Page
You may post the dog to our page, but please be clear that you have the dog and include your contact information. It must be clear to visitors that the dog is not at our rescue; otherwise we could both face legal issues. Please, do not spam our wall. We are trying to find homes for many dogs as well.
Georgia Jacks
This wonderful Facebook page is run by one of our volunteers, who spends her free time (after taking care of rescues and children) posting available Jacks in shelters throughout the state of Georgia. If you came here to ask us to save a shelter dog, please check Georgia Jacks. He or she may already be listed. If not, you can post on their wall and share the information with the group.
RescueMe.org
This far-reaching website is open to everyone (not just rescue groups) to post dogs needing homes. We have had a couple of adoptions from here ourselves and highly recommend it.
There are also several of other Jack- and terrier-oriented rescues in our state, though we cannot speak for their ability to take dogs in, either. Please check with them individually.
If you know of other places online, please feel free to comment below and share. If you need tips for listing a dog, please
read this article
. You must be perfectly honest about a dog's temperament.
How You Can Help
If you want to know how you to help us through our current challenges and help us keep our doors open to keep on rescuing, here are some of the things we need.
Donations/Contributions
Yeah, we know: Rescues are always asking for donations. Beggars! It's sad but true. Yes, we are a 501(3)c nonprofit, but, no, that doesn't mean we receive any type of funding. (Just so you know, all the stuff you see online is "pro-bone-o"; our web designer /photographer works for puppy kisses.) We rely completely on donations from supporters and friends like you. We have managed to make it for 10 years and hope to do it for another, but we literally survive month-to-month based on donations and contributions.
You can donate to the dogs online using Paypal or directly to our vet (please, note that payment is towards Georgia Jack Russell's outstanding bill).
If you can't afford to give much or don't like to give money, we have plenty of other options. And, of course, we live with Jacks who are pretty rough 'n tough on everything, so we are always in need of goodies. The less we have to buy/replace, the more we have to spend on vet care and the well-being of our dogs. We firmly believe that all dogs need toys and activities to develop and stave off kennel depression; unfortunately, those "fun" items often get moved to the bottom of the list for bigger priorities.
Help Us Find Forever Homes
As simple as it sounds, adoptions are the key to our survival. Although we do have some sanctuaried dogs, it is our mission and hope to find all of our dogs (regardless of age) the forever homes and second chances they deserve. Even if you can't adopt, you have a powerful tool: Your computer. Sharing our adoptable rescues on your own network also helps us reach a larger audience and increase our adoption rate as well.
You can find a complete listing of all of our adoptable dogs at the following links. They should all have the same information, but some have more photos or sharing options than others.
Our Website (Includes all of our rescues, including ones not currently adoptable – but can be sponsored)
We would really like to spread word of our Seniors 4 Seniors program. We have some wonderful dogs who do not have any "issues" besides a little less spring in their step. Jacks being Jacks, this can be a good thing, i.e. they have a "normal" dog energy. 😉
Sponsor a Dog
If you can't adopt, you can sponsor one. This money will go to cover food, vetting and care for the dog(s) of your choice. You can sponsor to any dog and we will put it towards the most needy dog or you can donate to an individual dog by visiting our available dogs on our website.
Foster a Dog
If you aren't in a position to adopt but have a dog-friendly home, consider fostering. Freeing up our kennels right now will allow us more time to dedicate to urgent needs of others. Many of our foster parents take on the cost of their foster dog (this is not standard practice, but it has happened many times), providing us the opportunity to save another dog. Most important, however, it gives our babies what they need most: Daily interaction and guidance in a home, making them much more adoptable than life in a kennel.
Volunteer
Last but not least, we are always in need of volunteers. We have a wonderful group on board right now, but as mentioned before, most of us work full-time jobs during the week. We are always in need of help during the weekdays, including moving/walking dogs, making vet trips, writing grants, helping with fundraisers, doing yardwork – you name it! It's not always glamorous, but it's the reality of rescue and every bit helps.
Thank You and Good Luck Tonight!
Sorry for the novel, but we wanted to make sure we addressed our situation with everyone. We have not stopped rescuing because we don't care; it's quite the opposite and we hope it's very temporary.
Thank you for your continued support … and, hey, if you do happen to win the Powerball tonight, you know where to find us! 😉