As many of you know, October was a "ruff one" for us. We had several rescue babies in and out of the animal hospital, some for more than a week at a time. We are still recouping those unexpected expenses, on top of trying to maintain our regular operating budget. (Please note, we rely completely on donations. We do not receive any type of government funding of grants.)
We have reached out to you for your help and you have came through in so many ways, from yard sales, to dog beds and blankets, to online donations. We're asking for your help once again. This time? It's a chance to win $1,500! It's fast. It's free. And it's just in time for your online holiday shopping sprees.
If you have not joined Socialvest yet and opted to give a percentage of your online purchases to our rescue for free, now is the time! This great local gateway for giving is launching an online sign-up campaign Monday, Nov. 12. The nonprofit who signs up the most individuals between Nov. 12-27 will receive $1,500! Second and third place winners will also receive a gift for $500 and $250, respectively.
This is not a contest in which you have to vote everyday. (Honestly, who of us has time for that?) You simply follow this link to sign up once and that's it! You're done and we are one step closer to paying off our vet bill! Then, as you shop at your favorite online stores for the holiday season and beyond that, a percentage of your purchases will go towards your account and you can elect to have that sent to the dogs.
Socialvest works in all of the major browsers (IE, Firefox, Safari and Chrome) and, yes, there is an app for it. Below are the step-by-step instructions for signing up and installing the extension.
Let's get some money for the dogs!
Sign Up for Socialvest
First things first, you'll need to sign up. Follow this link to our sign-up page. You'll know when you see our logo and sweet, little Eli that you're in the right place.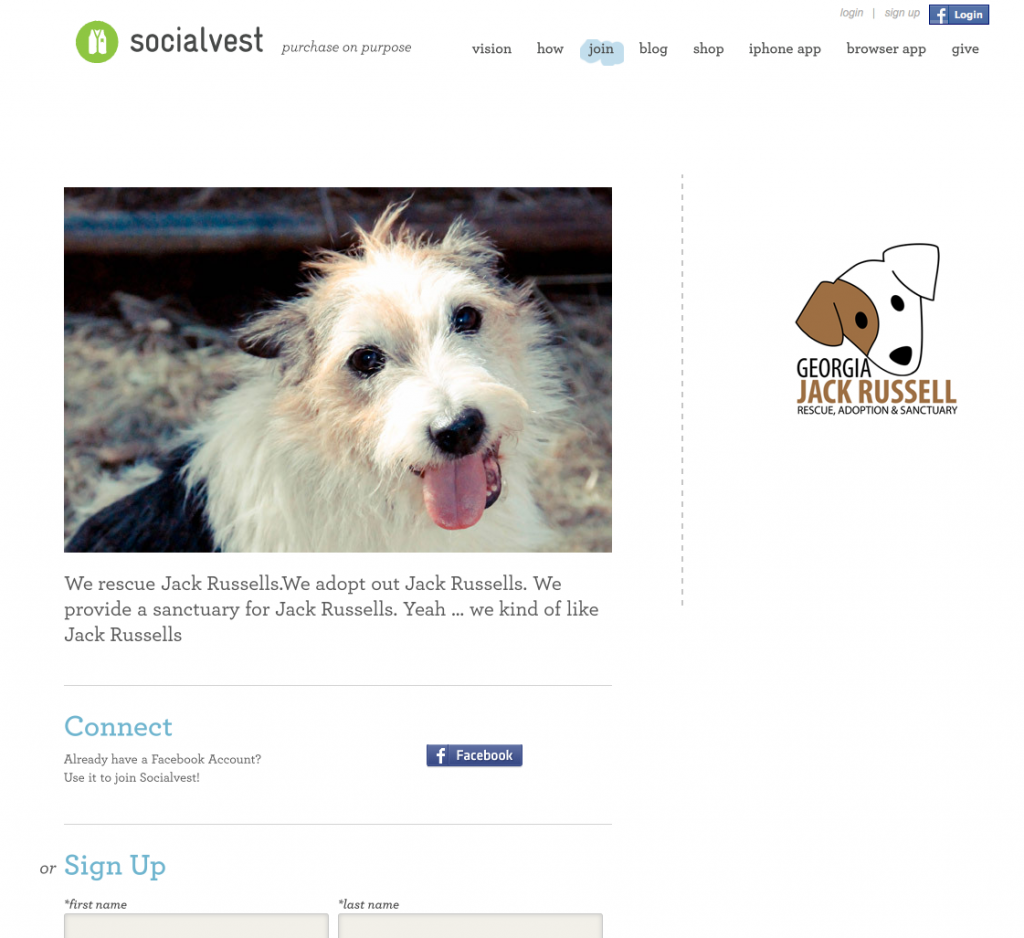 You have two options to sign up. For the easiest registration, you can click the Facebook button and use your Facebook account (you simply give the App access to Facebook and it doesn't ask for any information you haven't already provided). If you don't have a Facbeook account or don't want to use it, you can fill out the form and submit it. Either option will get you signed up.
You will also be given the option on how much you would like to donate to our rescue. We all chose 100%, of course, but if you have other charities you support, you might want to look for them after sign-up and see if they are available.
Getting Started
Once you're signed up, you'll be taken to the install screen. (In this example, we installed it on Chrome on a Mac., but it works in all major browsers on Mac and PC.) They promise no spying, stealing or other mischief. In short, it's just going to install its web assistant to look for store URLs that match its partners', so you don't have to.
If you're OK with that, click the Install for (Your Browser) button, confirm that you want to add it and let it install its add-on to your browser.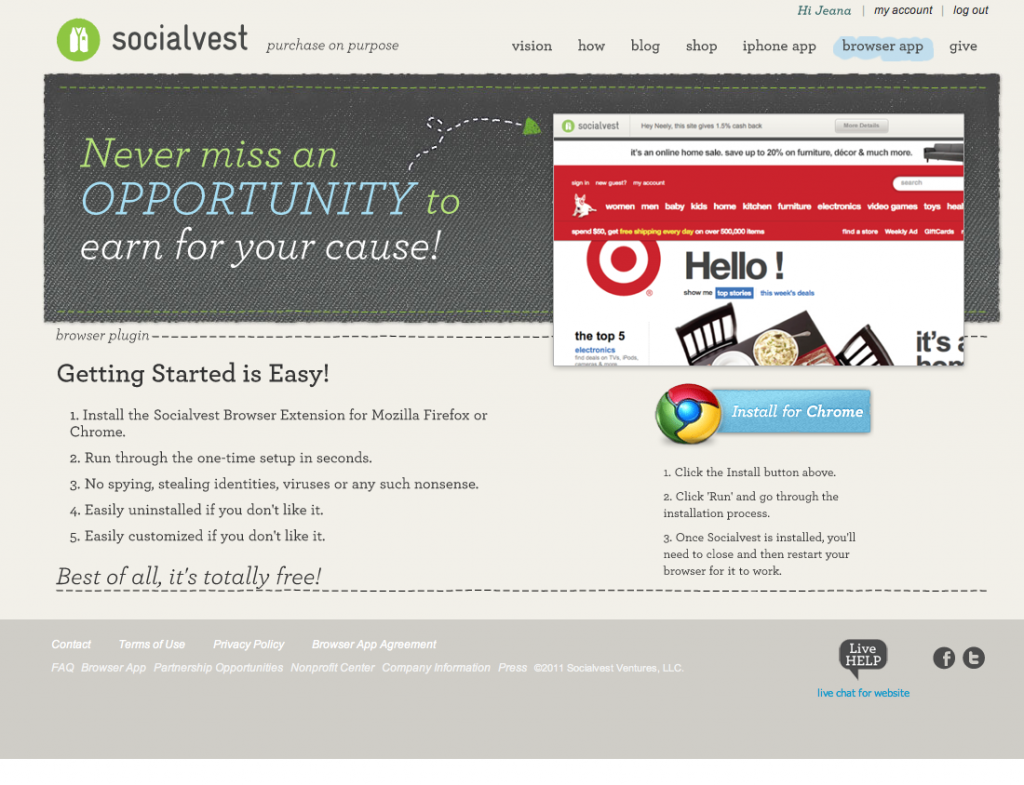 Go Shopping
That's it – you're done! Now you're ready to go shopping. You don't need to access this site again. The shopping assistant will alert you when you are browsing on one its hundreds of companion sites and how much of your purchase will be "earned." This amount costs you nothing, but translates into donations for us. Sure, 2% or 4% of a small purchase may not seem like a lot, but we definitely mean it when we say every dollar helps.
Hint: Even if you prefer to shop locally, you can still use this and earn. Just order online and select in-store pickup. It counts!