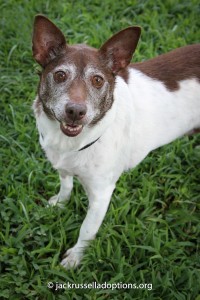 We are so happy to report that Hartley is doing great following his ear canal cleaning and dental surgery a couple of weeks ago. He went back for his follow-up today, and things look good for the first time in … well, the first time ever since he arrived here last year!
We/his forever human will have to deep clean his ears once a week as his issues will be lifelong, but he is definitely feeling and looking better! It was so nice to see his silly, little smile again instead of watching him groan and roll his head on the floor. He may finally be ready to find his forever home with just the right loving and responsible human(s) to give him the attention and love he deserves in his golden years.
We will be kicking off an online auction to pay for all of Hartley's surgeries and procedures soon. This auction focuses on jewelry and purposes (more Coach bags!), ladies, so get your charge cards ready! 😉 P.S. Did we mention Hartley is quite the ladies' man?