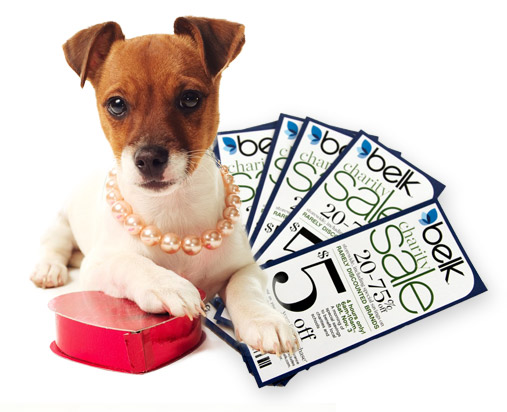 What It Is
Want to help the Jacks and get your money back? Now you can! Yes, you heard that correctly. Check this out …
We are thrilled to participate in Belk's Charity Sale, scheduled for 6-10 a.m. Saturday, May 3, at all store locations in the United States. Tons of storewide products, including rarely-discounted brands, will be on sale for 20-75% off during this sale. If that isn't enough to kick off your summer shopping spree, you can save another $5 … and help feed, shelter and vet homeless dogs.
How It Works
To participate, purchase a ticket from us for $5. That money will go straight to the dogs … literally. The ticket will allow you to take $5 off your first purchase at the Charity Sale. In short, you can "recycle" your money and help a needy dog! And there's more: Belk will give away a free gift card to the first 100 customers in each store on May 3. The cards per store are valued anywhere from $5 to $1,000. No purchase is necessary.
How to Purchase Tickets
In Person
If you know Donna or a volunteer, you can purchase tickets directly from us with cash or a check made out to Georgia Jack Russell Rescue.
Online
If you would like to buy online, you can purchase tickets through Paypal by hitting the Buy Now button below. We will mail your ticket(s) to you.
Through the Mail
If you prefer to send a check, please make it payable to Georgia Jack Russell Rescue and mail it to the following address:
Belk Charity Tickets
Box 305
Avondale Estates, GA 30002
Pssst, even though the ticket says there is a one-ticket limit, we've been told they do not strictly adhere to that. In short, if you want to buy and use more than one ticket, it shouldn't be an issue. Don't hold us to that; just sharing a secret. 😉 Or, heck, just buy a few and share the love with your shopping friends!
How You Can Help
If you are well-connected and would like to help us sell tickets, we need all the help we can get! Simply shoot us an email and tell us you would like Belk tickets to sell. Be sure to include your full name and snail mail address. We will mail you a packet of 10 tickets (let us know if you want more) to sell, along with instructions and a stamped return envelope to send back the donations.