Listen up, friends, family and fans: Let's celebrate the coming of spring (in our 'neck o'the woods, at least), have some fun, raise awareness, and bag some bills for the rescues!
We would like to invite everyone to join us in our online "Fling into Spring" photo contest. Whether you are an amateur or a professional, a contestant or a voter, your efforts will help us raise some much-needed funds to keep doing what we do: Rescuing those rascally Russells. (Say that 5x really fast!)
The contest kicks off St. Patty's Day weekend and runs through "Easter Monday." That gives us five whole weeks to dig up or shoot that perfect, prize-winning picture of your pet that epitomizes spring … and to relentlessly harass our family, friends and followers to vote for our photos! Fire up those social networks, folks!
The entry fee is $2/photo and each vote is $1 – all of which goes to the rescue. Credit cards are accepted on a secure server, and none of your financial information will be shared or jeopardized. Our goal is $1,500, and we know, with your incredible photography and networking skills, we can easily reach that by April 21! We will definitely do our part to share and promote the contest and your photos as well.
Contest begins
5pm (EST) today!
The Rules
We are looking for photos of your pets celebrating spring. Some ideas/suggestions include …
Enjoying the great outdoors
Going on spring break with you
Helping you in the garden/yard
Dressing up for the  spring holidays (St. Patrick's Day, Easter, etc.) …
Your "pet" does not have to be a Jack Russell or even a dog. We welcome kitties, bunnies, turtles, you name it! We don't even mind if there are humans in the photo with them. We're just looking for photos that capture the spirit, energy and beauty of both the arrival of spring and the joy of living with animals.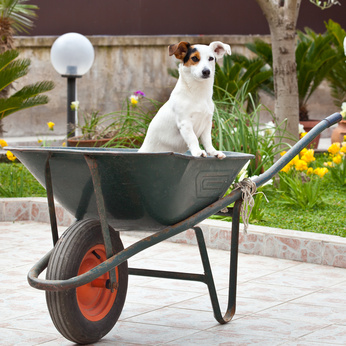 This is a stock photo (not allowed), but it's an example of something you might submit.
That Copyright Junk
You must have taken and/or own the copyrights of the photos you upload. Stock photos or photos you "found" on the Internet are not allowed and will be removed. We reserve the right to share and promote your photo on our website and social networking sites for the contest, but you retain all copyrights of your photos.
The Good Stuff
The three shutterbugs who bring home the most votes (aka the biggest bills for the pups) will win some fabulous prizes, including a custom sketch of your award-winning photo (or any photo of your choice) for the first-place winner. The incredibly-talented Dorien Thomas (also a GA JRT volunteer) has donated his wonderful artistic gifts, and we can't thank him enough! We also have some other great prizes for the winners, including T-shirts, tumblers, magnets, a Petsmart gift card, and limited-edition marble statues.
If you would like to donate something and sweeten the prize pot to help us engage more participants and reach our goal easier, we definitely welcome it! Please, contact us. We are always in need of great items for our contests, online and silent auctions, raffles, etc.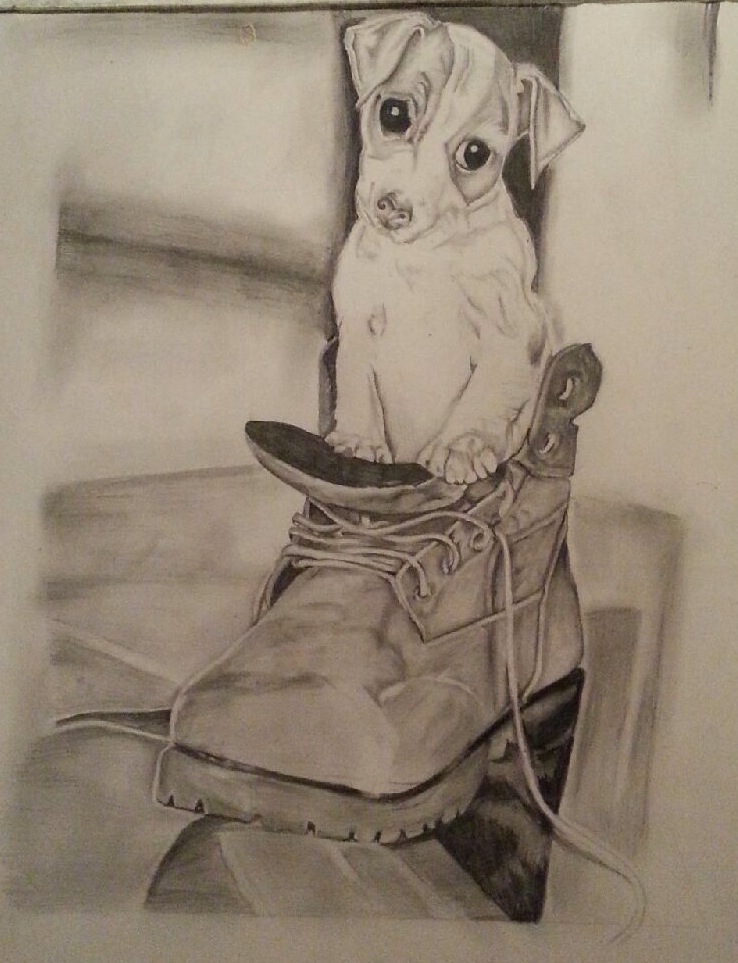 JRT puppy sketch by Dorien Thomas