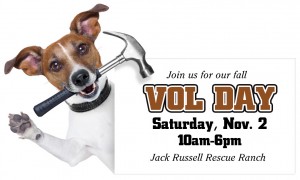 Join us for our fall volunteer day! We will be cleaning and weatherproofing kennels and trying our best to get the indoor kennel ready for winter. We could really use some handymen and women for this one!
If you're ready to sign up, please visit our Facebook event and "join," so we can get a headcount. If you're not on Facebook, just email us and let us know you're coming.
Then head over to our sign-up sheet (don't worry, we won't do anything bad with your email) and sign up for the "duties" you'd like to handle, plus any goodies you'd like to bring for the crew. We definitely need help with wrapping the kennels and cleaning out the indoor kennel – not fun jobs, but high-priority jobs for the fall!
If you're a new volunteer and need directions to the ranch, please email us.