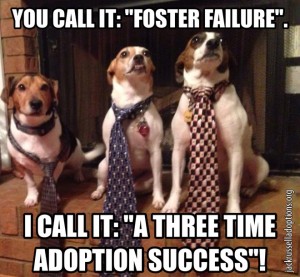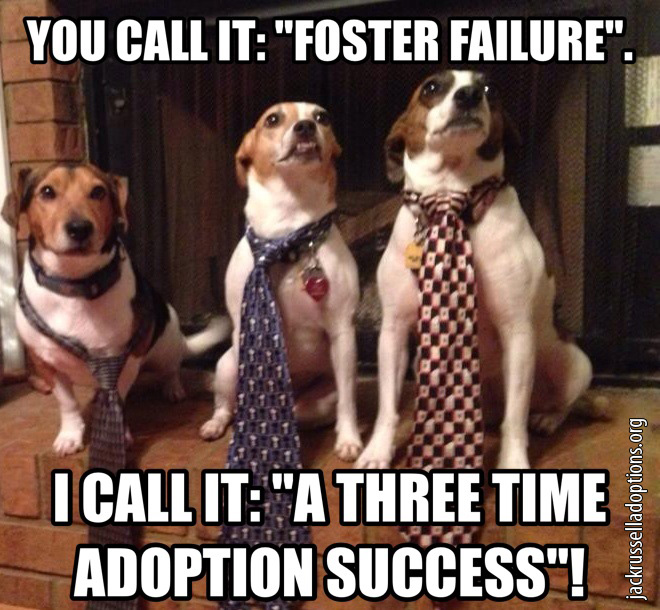 Our foster program may not be big, but it's been beautiful so far. Oh, sure, a few of us have allegedly "failed" and, sure, we prefer to refer to that as "adopted." But many others have successfully fostered dogs for weeks or months. They have helped them to grow, to overcome medical issues and/or to socialize with other dogs and people, and then watched them move on to wonderful homes and lives. Most of the time, those dogs may not have found such a great forever life without the added TLC and attention that those fosters gave them.
For the folks who foster, it's rewarding in so many aspects. There is nothing like the feeling of taking in a dog who is down on his or her luck and turning that pumpkin into a coach … or, in the story below, a Pumpkin riding coach. 😉
We would like to grow our foster program this summer – a time when adoptions tend to slow down, but the rescue never does. We have several puppies and special-needs furbabies right now who could really benefit from being in homes and receiving guidance. If you don't feel you are qualified to help train dogs or to assist with medical needs, we still welcome you to consider fostering one of our "already-great" dogs. In doing so, that helps better prepare and transition them back into a home and it frees us up to spend more time at rescue with the dogs who need it. Either way, it's a win-win situation.
To promote our push for fosters, we will be sharing some stories from our fosters throughout the years. They all have unique and wonderful experiences – some short-term, some long-term and, yes, some permanent. It is only fitting that we kick it off with one of our favorite stories over the years. Three times, Jennifer Roose came to rescue to foster and, yes, three time she allegedly "failed." But what a beautiful way to fail.
Without further adieu … here's her story …
I Am a Three-Time Foster Failure
by Jennifer Roose
I am a three time foster failure, but I prefer foster-to-adoption success, thank you very much. I have to preface that all three fosters started out with the idea that if they found a niche in the household, they could stay. Here is the story of my three musketeers.
Pumpkin
When my beloved Jack, Penny died, I was heartbroken. I was not ready to own another dog, but our house was so empty. I did not want to raise another puppy. I decided that I would foster a dog to "test drive" if we could handle having a dog again. I went through the application process and drove to the ranch to check out some dogs. I wanted a cutie named Suzie. Augie, our Spaniel/Jack mix did not like her. She only had eyes for a scrawny white female with a wicked under bite. Since the deal was the dog had to get along with Augie, Tyler it was.
Before we left, we decided that we would change her name to Pumpkin. When we got her home, the shy, skinny dog was nothing short of amazing. She got along with everyone. When I took her to the barn, she jumped right on my horse drawn carriage and rode in the seat like she was born there. Foster then became adoption. The perfect barn and horse show dog is so hard to find, and I was not going to let her go. She finished obedience school and went on to do advanced level agility. She is also the Lawn Sprinkler Queen of the World.
Susie
The following year, I met Susie, a Jack/Whippet Mix with the biggest puppies I have ever seen at an adoption fair. She was ready to be weaned from her puppies. Susie was shy to the point of being catatonic at times. She has brown eyes that could melt a heart at 20 paces. My mother saw her and wanted me to foster her. I got the call in July of 2012.
She was a bit of a mess. She had serious dental disease, liver problems, and she was full of buckshot. Later we found out she had heartworm. Fostering a dog with issues does have its rewards: When we figured out how serious Susie's issues were, our family decided that this dog needed to have us as her forever home. Once Susie regained her health, she blossomed. She went through obedience school, and she is working on her agility skills. She is an awesome carriage dog. She and Pumpkin share the seat next to me.
Chuckie
Chuckie (formerly known as Casey) was a two-week project for me. I wanted to pull a dog from the kennels to work on manners and do some socialization. I let my mother pick. My mother has a thing for Beagles, so we pulled Chuckie. He bonded with my mother instantly, and the two were inseparable. He was having a great time with the girls. When I wanted discussed taking him back after Christmas, my mother refused to let him leave. Chuckie joined the pack. He is now my mother's very spoiled little boy.
There are different ways to foster:
There is the "Try It Out to See If This Is the Dog for You Foster." I did this with Pumpkin and Susie was a side effect.
The long term-foster for a senior or special needs dog is another. This is gives a dog some one-on-one attention. For some seniors, this gives them the first taste of home they did not get in their lives.
Socialization foster is giving a dog the chance the ability to transition into a home. That is what Chuckie was at my home for. It cuts down the chances of a dog returning to the rescue and allows us to know what their little quirks are.
I know I "failed," but I would love to do this again. It seems it is hard to let go. The foster is the bridge to a better place. A home allows the true personality to show through. I took on dogs with issues on purpose. My family has had special needs dogs in the past. Not all fosters have issues. Some are healthy dogs, needing a chance to get out of the kennels. Others are older and belong on someone's sofa, sleeping at your feet. To tell you the truth, being a foster failure isn't all bad. I wear it as a badge of honor.
Want to Foster?
Have questions about your commitment as a foster? You can find out everything you need to know on our Foster A Dog page. We do need to mention that, although we appreciate the offer from other states to foster, all potential fosters should live in the Atlanta area to make vet runs and/or to bring the dogs to adoption events or to meet prospective parents.