On nights like tonight, we all need a little pick-me-up; something to make us feel less helpless to help and to keep our faith in mankind. Nothing does that better than a story about a rescued dog who done good – and then some!
Meet Blazer
If you've been following our entries in the Petco Photo Contest, you inevitably saw "the Jack Pack" (plus Border Collie) entered by Laura Miller. It's a wonderful photo, and we just have to include it here, as well as the link to vote for it …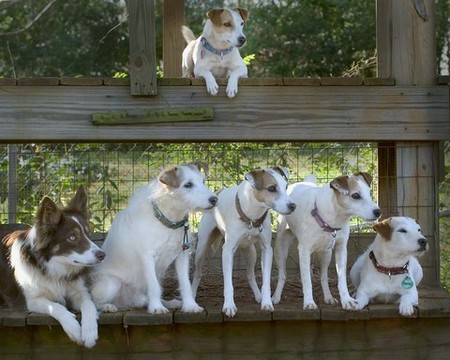 One of those beautiful dogs is Blazer, a little superstar who has entered his own posthumous photo for the contest. This wonderful boy was adopted from our rescue more than a decade ago, before Jimmy and Donna even took over the reigns. Mom shared such a great success story about him, along with some amazing photos, that we just had to share. Although he left this world for the Rainbow Bridge last December, his memory and his story as a second-chance dog live on.
Here's Mom's story …
In 1998 I had 3 JRT's of my own, Polo, Jake and Polly. I was involved with the Peach State JRT Club and competed mostly in agility. Blazer was owned by a couple that belonged to the club and the husband died unexpectedly. The wife was overwhelmed with several dogs and horses, and being forced to move from her home, was unable to keep them all. Blazer was being kept "temporarily" by GA JRT Rescue while she tried to work things out. He had been there about 3 months, and they couldn't get her to agree to release him to be adopted out.
She wanted him to go to a performance home, so I agreed to take him and foster him until a performance home could be found. He was almost 2 at the time, and well trained, but had also been hunted so he was very prey driven. He went to a couple of prospective homes briefly, but they didn't work out. Then he went to a high-profile agility home in Chicago. He was there 7 months, but kept escaping and couldn't get along with the Chow mix in the hom, so they returned him to me. At that point, I decided to keep him.
Blazer was an amazing athlete. He and I competed in agility on a national level in USDAA, NADAC, AKC and TDAA, earning Agility Championships in each of these four venues. He was ranked in the Top Ten in the country in USDAA agility in 2003, 2004 and 2006. We were invited and competed in the Purina Incredible Dog Challenge, as well as national championships in USDAA and AKC, making it to the Finals of the USDAA Performance National Championship in 2006.
In addition to his agility career, he was a registered Therapy Dog with TDInc. and through the "R.E.A.D." program we volunteered in after-school programs and libraries, reading with children as his "retirement" job until he was 16.
Blazer's acting career started when he auditioned for the role of Sandy in "Annie" at the Decatur Playhouse in 1999. He was live on stage for 7 weeks, 4 nights a week+Sunday matinee. Following this, he had a number of acting jobs in commercials and such. He was the "Bellsouth" Dog in an ad campaign in about 2006(?). He also did a fun ad for the Children's Museum of Atlanta. All of the money earned from his jobs went to pay for vet care for the other foster dogs that came through our home. I often just had checks made to our vet to pay them directly for our rescue bill.
I lost Blazer in December, on the Saturday before Christmas. He would have been 17 in March. He inspired me to rescue and foster, as here was this dog that no one wanted, yet he was a Champion in every sense of the word.
Fabulous Photos
If his story alone didn't inspire you, take a peek at these wonderful photos. The pics of his BellSouth ads and appearance with the "Sandy" cast were too small to share for now, but we hope to get some higher res pics soon. Just wanted to share his story for now … because we all need them.
[nggallery id=189]
Vote for Blazer
If you would like to vote for Blazer in the photo contest and help rescue dogs like him, you can do so here.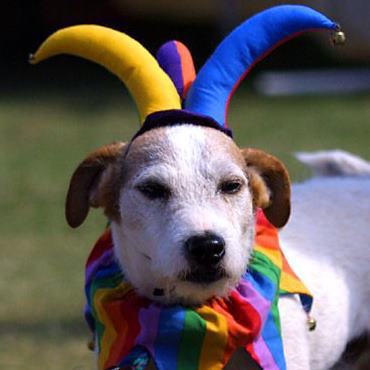 Thank you to Laura for sharing this wonderful story and for giving Blazer (and many others) such a wonderful home. And thank you for the wonderful Martingale collars for our rescue group and desire to help us with our big fundraiser in June. We couldn't do this without people like you.